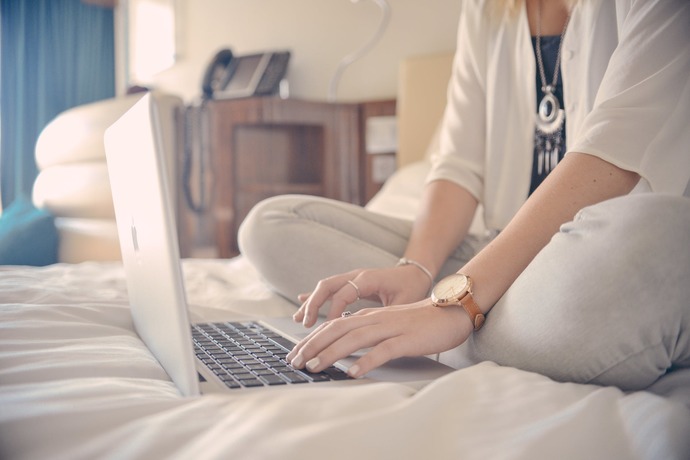 Creating magnetic, high-traffic blog content is something of an art.
It's difficult to come up with blog posts ideas and spread them out over the next couple of months. Many businesses owners plan out their first few blog posts and feel ahead of the marketing game right out the gate. But before you know it, those few blog posts are published, and you're scrambling to come up with the next batch of posts.
The last thing you want to do is run your blog post to post.
With a few smart tips, you can have your blog posts planned out for the entire year. Of course, there will always be unplanned posts and minor changes here and there. This is fine. As long as you have the content strategy mapped out, you're already in a good position. Here's how you can up with blog ideas for the entire next year.
Use Amazon's "Look Inside" Feature
If you've ever purchased a book from Amazon, chances are you've seen their "Look Inside" feature. With this, you can take a peek inside many books and get a glimpse of the Table of Contents, Introduction, and first few pages.
This feature can not only help you make a purchasing decision, but it can also be a great resource for gathering blog ideas. For example, as a marketing company, we might look up some of the best marketing books. For example, in the book "500 Social Media Marketing Tips," we can find the following Table of Content listings:
"Why Your Business Needs Social Media Marketing"
"Before You Begin: Key Considerations For All Social Media Marketing"
"Explained: The Best Types of Content For All Social Media"
As you can see, these are title chapters that can easily be manipulated into blog posts.
One book alone could yield dozens of ideas. The same concept can be applied to bookstores, too. Gather up your laptop and notebook, and head over to your local Barnes and Nobles. If you were a marketing company, you'd pull out a handful of books and start flipping through the chapters. By the end of the day, you could easily leave the bookstore armed with 100 blog posts titles.
Use Idea Generators
This might sound a little unorthodox, but idea generators can help get the creative ideas flowing. These tools help you uncover a handful of blog titles that you may not have thought of otherwise. Some of them are a little less than desirable, and the grammar can be off (they are automated machines, after all), but it's a great starting point. Hubspot's Blog Topic Generator, Keyword Tool.io,  the Portent Content Idea Generator, and BuzzSumo tools are all viable options.
Let One Idea Grow
Start off your year-long blog post goal by coming up with your first blog post idea. Let's say that title is, "10 Content Marketing Tips You Need To Follow." Now, we can branch out from there by being more specific and expanding our scope. This might look like this:
"10 Content Marketing Tips for Facebook"
"10 Content Marketing Tips for Pinterest"
"10 Blog Posts That Increase Customer Engagement"
"10 Ways to Teach Yourself Everything You Need To Know About Content Marketing"
Play around with this style of title manipulation time and time again, until you're squeezing the most angles out of every potential title.
If you have trouble thinking of a good idea to practice this exercise with, visit a competing blog site or a thought leader in your space, and practice with one of their titles.
Change Up Your Audience
If you're writing about content marketing, chances are that you don't have to worry as much about hyper-specific demographics. Really, you're just interested in people who are interested in content marketing, regardless of where they live or how much money they make (at least, for now).
One neat trick you can employ is to switch up your target audience in your blog post titles to appeal to many people who are interested in the topic. This might look like this:
"Top 5 Content Marketing Tips For Startup Businesses"
"10 Digital Marketing Tips For Beginners"
"How Small Business Owners Can Win At Social Media Marketing"
"How E-commerce Businesses Can Shine With Content Marketing"
Notice how with each of these titles, you're covering the same topic while appealing to a large range of people who are interested in that topic.
Get Negative
While we always want to remain optimistic in our business ventures, the fact is, sometimes topics with negative connotations attract people.
You can completely flip your blog post ideas by negating them, giving you yet another bundle of blogs to work with. The aforementioned blog post ideas would then look something like this:
"5 Content Marketing Tips That Startup Businesses Should Completely Ignore"
"Digital Marketing Advice That Beginners Should NEVER Follow"
"Want To Lose At Social Media Marketing For Your Small Business? Don't Do This"
"Content Marketing Tactics Your E-commerce Business Should Avoid"
Regardless of your approach (funny, political, negative, positive, editorial, actionable etc), the mission-critical aspect of the blogging process is to have a plan and stick to it. If you do not, the likelihood of failing only increases over time.
Finding blogging ideas is easier than you think. All it takes it's a little bit of creativity in searching in the right places.