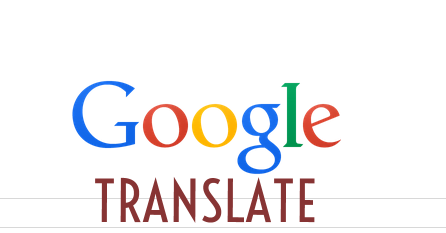 A friend of mine told me recently that I should write an article about Google Translate.
This person is not a blogger, but since he knows that I am, he told me that I should spread the word about the pros and cons of this Google tool, because he knows all too well about it himself.
While many of my readers might not be using Google Translate, the posts on this blog are also meant to reach anyone on the web who would like an answer to a specific question such as this one.
Is Google Translate and Accurate Translator?
Can Google Translate be trusted as a 100% reliable translating software?  Well, let's see. But first, what makes me an expert at Google Translate in the first place?
I am very familiar with Google Translate because I've been using it for quite sometime for my work.
For those who don't know it, I've been working as a professional freelance interpreter and translator since 1999.  I work now mostly for private clinics and recruiting centers, but in the past, I've worked for lawyers and local courts, here in North Carolina as well.
Today I translate mostly letters, ads and resumes from English to French, and English Spanish, and I use Google translate as a tool that helps me speed my work.
That's why I'm very familiar with Google Translate.
When is Google Translate OK to Trust?
When you need to know simple words or sentences, Google is OK to trust.
Let's say you want to know how to say "hello, how are you" in French. You could trust Google Translate because it's going to give you the right answer in a simple statement such as this.
However, you need to know that since in French there are both a "formal" and a "familiar" way to address people, Google translate will give you the formal way.
"Hello, how are you doing" Google will translate "Bonjour, comment allez-vous?" (Formal expression). No matter how many time you're going to process that phrase, Google Translate is not going to give you the familiar expression.
On the other hand, I guess because Spanish of South America has gone a bit haywire from its original European Source, it will translate that same sentence in familiar Spanish – not formal.  Spanish has also both a formal and familiar way to address a person, but in this case, Google Translate seems to be set to use the "familiar way" as opposed to the French translation.
Why?  I'm not quite sure, but my guess is that Hispanic people tend to use familiar expressions versus formal ones a lot.  While it's totally not acceptable to use the familiar expression with the public or a stranger in Spain, it's very common in Latin America. However, it doesn't always make it right either.
So, how would you know if you're getting the familiar or formal expression from Google Translate if you didn't know the language?
You wouldn't.
This is just one of the smallest reasons why you can't trust Google Translate for a language you don't know at all or not well enough. But there are more.
What Happens when you Translate a Whole Document?
If you'd run a full-page document on Google Translate, chances are that you would have to review the whole thing sentence by sentence because I can assure you that you WILL find errors, and sentences that make no sense at all when translated by Google software.
This is due to the fact that Google translates pretty much everything literally, and doesn't understand idioms. On top of this, there're also few more issues that any computerized translation system will encounter.
Let's take a look at the replies I found on Quora about Google Translate, when someone asked the question…
Can Google Translate be trusted as an accurate translator?
Answer #1
[box type="spacer"]Sometimes. I wouldn't try to translate something into a language I wasn't already familiar with since idioms can be lost in translation.
They use statistical matching to translate rather than grammar rules. This can also cause some problems.[/box]
Answer #2
[box type="spacer"]It's decent, and can be good if you already know the grammatical rules of your target language.
Google translate will translate each word, but many languages have words that do not have an equivalent and Google translate will not form the correct order of words in sentences to make sense of the meaning. Gender, conjugations, tenses will also be lost.[/box]
Answer #3
[box type="spacer"]You cannot trust Google Translate as an accurate translator. Google translate can be good, but only to get the general idea of a text, to translate very simple sentences or to translate individual words. Other than that it cannot be trusted as accurate.
I certainly agree with Andrew, you need to have an understanding of the language you are translating into to correct the mistakes yourself. For accurate translation, you would be better off using a translation agency or if you have a limited budget you can use online translation websites that use real human translators to get the job done[/box]
I even added my own reply to that thread when I found it while doing some research to see what people were saying about Google Translate.
Turns out that pretty much anyone having used Google Translate with a good knowledge of the other language they were using it for, do agree. Google translate can't be fully trusted to give you a reliable translation.
Google translate is a cool tool that can help you speed up your translation process, especially for technical terms (that's why I use it).  It's also great to help you with quick short sentences you may need if you plan to travel abroad, but it's not to be trusted as you would a human translator.
Do you want proofs?
Example of a Typical Bad Translations from Google Translate
English Version of a short resume
 Top four skills – programming in .Net, Electrical Engineering design experience, ability to work with people both technical and non-technical, broad background in both hardware and software design. 
I only speak English, very little Japanese from when I used to travel there for HP.  Hardware test engineer, Product Integration Specialist, Manufacturing Engineer
Bad French Translation
There are 5 major errors in the translation, including one that makes the sentence impossible to understand.  Even if you don't understand French, I'm sure you can appreciate how that many errors in a small 4 line description is way too many.
The highlighted segments are Google Translate errors. Between parentheses are my corrected translations of those errors.
Les quatre compétences (compétences principales) – programmation dans le filet (de la toile), de l'expérience (expérience) de conception en génie électrique, capacité à travailler avec des gens (des personnes) à la fois techniques et non techniques, vaste expérience dans le matériel et la conception de logiciels.
 Je ne parle que l'anglais, très peu de japonais à partir de quand je l'habitude d'y voyager pour HP (depuis que l'époque ou je travaillais outremer pour HP).  Ingénieur de test de matériel, spécialiste de l'intégration de produit, ingénieur de fabrication
It's almost just as bad in the Spanish translation where I also found 5 errors as well in just about the same areas as the French version.
Bad Spanish Translation
Top cuatro habilidades (Cuatros mas altas habilidades)- Programación en Red (en la web), Ingeniería Eléctrica experiencia en diseño, capacidad de trabajar con las personas, tanto técnicos (técnicas) como no técnicos,(técnicas) amplia experiencia en hardware y diseño de software.
Sólo hablo inglés, muy poco de japonés de cuando yo solía viajar allí para HP (desde cuando estaba viajando para HP).  Ingeniero de pruebas de hardware, especialista en la integración de productos, ingeniería de fabricación
Conclusion
Now, if you were to trust Google Translate and send such resume, you'd be sending the wrong message, wouldn't you?
If you didn't know French or Spanish well enough to correct the errors, it would be better than you'd not trust Google Translate and ask someone who knows, or being honest with the recipient and tell them that you are not fluent in the language.
I hope this was helpful information if you were still wondering if Google Translate is a reliable translating software. Please, leave your comments below.