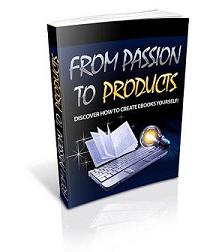 The first time I ever published a written piece online was almost 6 years ago.  It will be in a couple of months.  Yes, it was in April 2006 that I was clicking on that submit button for the first time.  time goes by fast!
I don't write much product reviews anymore, because I am now concentrating more on "teaching", then telling people what to buy. However, I make few exceptions here and there, when it's appropriate.
My online friend Barry Wells which I just interviewed a week ago has just launched an eBook for wanna be writers and I couldn't miss on that one.
I have written 6 eBooks and a few short tutorials myself.  I love to write. To me writing is something that comes kind of naturally; nonetheless, I am aware of the fact that it's not the case for everyone.  That's why I have clients who are hiring me to write for them, and that's a good thing, isn't it?
However, I am not writing this post for you to be looking for someone to write for you today.  No, I am writing this post to introduce you to my good internet friend Barry Wells's brand new eBook titled From Passion To Product.  If writing is not really your thing, but you've always wanted to write an eBook, then, this guide is for you.
Putting your Passion into a Written Product
What a great idea!  I should have thought about this myself.
You might have read other eBooks about writing eBooks before, but what I like about this one is that it will show you how you can come up with the ideas before you actually start writing anything.  As a matter of fact, for an eBook to be very useful to anyone reading it, it must come from the heart.  I don't want to sound cliché here, but it's just so true.
You don't want to write an eBook just thinking of the big buck.  This would be the wrong approach about it, and it would not even pay off in the end.  You want to write an eBook because you have a strong passion, something you are very good at, something you know well which you want to share with the world.
In From Passion to Product, Barry mentions 11 good reasons why you should write an eBook.  If you can't think of even one, right now, those 11 good reasons should definitely inspire you.  After all, that is what any eBook should really be about; inspiring the reader to take action.
Barry is also giving you some simple examples that you can follow easily to create your own product.  Such examples can really help you in the process.  Writing an eBook can be very stressful, I should know, and I would have loved for someone to show me how to do it step by step to take some of that stress out of the picture.  This is what Barry does for the reader in his book.
Maybe you have tons of ideas floating through your mind, but don't know how to put those ideas together.  I know that has happened to me many times.  This is why Barry is outlining 8 critical steps that will help you to go from your ideas to the end of you first paragraph. This is a very important step that is very seldom if ever explained to new eBook writers.
Are you Ready to Write your First eBook?
I know, writing your first eBook, is not easy, I am not going to lie to you.   As a matter of fact, when writing your first eBook you will probably make some mistakes, because that's just part of the learning process.  However, you don't have to make ALL the mistakes under the sun, like I did. This is why having a good guide is so important.
When I started my first eBook, I probably made all the mistakes that one could make, because I just did it on my own.   No recipes, no guidance and no help… what can you expect?
What I like about Barry's book is that it's going to help you avoid a lot of the common mistakes that new writers make all the time.  Avoiding those common pitfalls will help you to keep your enthusiasm going and not derail from your project, which is a very, very common thing among people writing their first eBook.
So, if you would like to learn more about what's in that eBook, click here and read more from Barry himself. You will not be disappointed.  Oh, and yes, how much is that eBook? I am not going to tell you, but I promise you that you will love that too!

Please, leave your comments down below.  Have you written eBooks before? Yes, no? How was it for you?