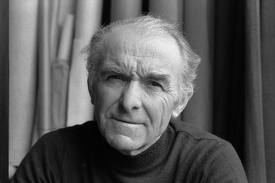 Yesterday Google celebrated French photographer, Robert Doisneau's 100th birthday. This is Google's way of celebrating all the famous artists of the world, whether they are still alive or dead.
This actually gave me the idea to write this post on the brand new design of my blog.
Robert Doisneau pronounced (dawno) in French, was a talented and famous photographer known for capturing true life scenes of the street of Paris from the 1930's through 1960's.

Early Love for Photography
Robert Doisneau was born on April 14 1912 nearby Paris, two days after the sinking of the Titanic.  Robert Doisneau discovered his taste for the art when he was just in his early teens.  However, his taste for photography started when he was 16.
Doisneau had a rather unhappy childhood.  He lost both his mother and father by the time he reached the age of 7 years old.  He was raised by an unloving aunt who could have well made him a very angry person which resentment could have affected the rest of his life in a negative way.  Fortunately, Robert Doisneau, on the contrary was a good nature guy who was known as a playful joker who enjoyed every moment.  Some of such precious moments he photographed and became famous pieces of his art, here to stay forever, and for us to enjoy.
Early Career as a Photograph
Robert Doisneau started working as an industrial advertising photographer for the largest French car industry, Renault from 1934 to 1939 when he was finally fired for chronic tardiness.  It was while photographing employees working on cars at Renault factory that he developed a taste for photographing people.
After he was fired from Renault he started his solo freelance career as a post card photographer, which industry was the largest of its kind in whole Europe at the time.  Soon after that, however, he was hired by a famous Paris Photo Agency which introduced him to his new and long career as a street photographer.
Even during the 6 years of World War two in France under German occupation, Doisneau served as a soldier and a photographer of France in war against Germany.  Since he never wanted his photos to ridicule his subjects,  while photographing post war Paris, he refused to photograph women whose head had been shaved for punishment for having being sleeping with Germans soldiers.
After the war he was contacted by two famous magazines, Life and Vogue.  While working for Vogue, he quickly got tired of photographing only beautiful women in beautiful surroundings.  His true love was to the street with everyday people.
Becoming a Famous Photograph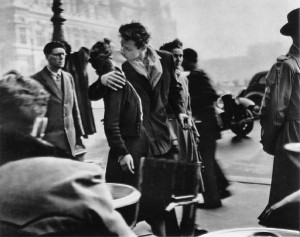 Robert Doineau was famous for his photographs of children and adults in the streets of Paris.  His most famous photograph is called "Le baiser de l'Hotel de Ville" (The kiss of City Hall) which he took in 1950.  Doineau was famous for taking instantaneous pictures of regular people going about their daily lives. Whether children at play or adults at work his pictures are one of kind.  None of his subjects ever expected to be photographed for posterity.
Enjoy more pictures of Robert Doisneau right here!
Let me know what you think. Did you know about French photographer, Robert Doisneau?