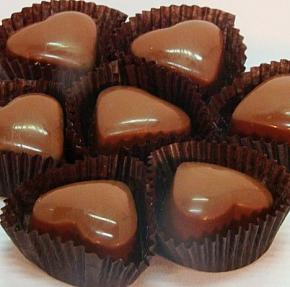 Chocolate is loved by more than half of the U.S. adult population.  Americans spend about $55 per year per person in chocolate.  Yes, indeed chocolate is a delightful bliss, and chocolate lovers are not going to let up anytime soon since the International Cocoa Organization is estimating that by 2015 chocolate in the U.S. will top $19 billion.  That is serious chocolate business!
Healthy Treat
Chocolate contains a great ingredient called phenylethylamine which makes people happy it's the same nurturing hormone that triggers the brain when we fall in love.  Furthermore some studies have found that dark chocolate stimulates coronary arteries and smooth muscle relaxant which induce good feelings.  Studies have also shown that dark chocolate lower the risk of myocardial infarction and stroke by 40 percent.

Dark chocolate is also responsible for lower blood pressure and is a source of polyphenol antioxidants also found in red wine, fruits and vegetables.  Yes, indeed, dark chocolate contains more antioxidants per 3.5 ounces than some fruits and vegetables such as strawberries, raspberries, blueberries, raisin, cherries, onions, corn or bell peppers.
Yes, chocolate is divine and for you chocolate lovers who like to indulge in the blissfully healthy chocolate this Valentine season is the perfect time to offer taste with a healthy touch that will be so much appreciated and remembered.