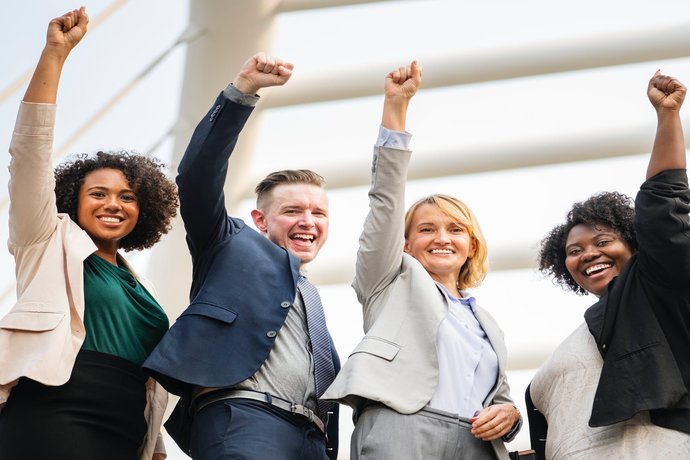 Did you know that it's possible today to create your own customer support service platform even if you don't have any technical, IT, or coding knowledge at all?
As a matter of fact, you can now create a professionally designed and responsive customer support service in minutes.
This is made possible because of a Helpdesk software that does all the background work for you and will guide you step by step to create the foreground, so it looks and feels like you want.
Let's see how…
Create Your Own Fully Branded Help Center
Wix Answers is a platform that gives you the ability to create your own custom help center for your online business. And it's as easy to do as creating a website that does all the behind the scene work for you, regardless of the fact that you may not know anything about coding.
Just as you would create your site with Wix, you can create your customer support platform with Wix Answers in the blink of an eye, or concretely within a few minutes to just a couple of hours depending on how deep and customized you want to go.
All you have to do is choose a template for your help center and customize it to suit your business.
Add your business logo, a background image and background color that suit you best, and you're already done with the basics. It 100% customizable even if you have zero technical skills.
But if you happen to have technical skills and want to add JavaScript to create custom interactions, or edit the CSS for full customization, you can do so as well.
But whether you are tech savvy or not, you will be able to create a fully customized customer support platform to help you answer any question and help fix any issue your customers may have about your products or services.
Incorporate Your Ticketing System
When your online business is growing, whether you're selling a product or a service to hundreds or thousands of customers you are bound to have various technical issues at times, and the best remedy to such issues from the smallest to the most significant ones it's to have a ticketing system.
With this knowledge base software, you can create a ticketing system to easily communicate with your customers and make them feel instantly at ease even when they run into an unexpected problem.
You can also add a knowledge database article file that will be searchable by your customers in case they want to try to figure out how to fix their issue on their own.
The system allows you to add images and files to a ticket and see who's contacted you, where they are from and more. You'll be able to track and add labels to tickets and assign them to the right customer service section so it can be handled in the fastest and most professional possible way.
As you build your ticketing system you will be able to incorporate many features to make your customer service support platform the most professional and efficient platform you want it to be. Some of which are as follow:
You will be able to optimize your team's workflow and enable them to answer in real time.
You will have an internal system that allows you to communicate instantly with your team members.
You will be able to track your team customer service performances.
You will be able to create automatic often asked questions' replies in advance and give your customer instant help.
You will be able to help customers who are none English speakers in their own language if necessary.
Built-in Call Center Software Service
Yes, you can incorporate your own call center.
If you choose to go a bit further in extending top-notch customer service experience to your valued customers you can offer them phone calls access to help them resolve issues faster and more efficiently.
With this software system, you'll be able to make and take calls to and from your customers.
All you'll have to do is set a toll-free line and incorporate your call center agents to the system. If you are selling your product or service to different countries other than English speaking, you could have your local call center agents handle calls in the respective language.
The same as with other features of the Wix Answers system you will have full setting control and knowledge base of what's going on from the platform.
Your agents will be able to control each and every call with the help of the software. For instance, they will be able to put the customers on hold, mute, and transfer calls as well as queuing, monitoring, and recording calls.
This software allows you to incorporate many other features if you choose to have a call center service attached to your business for utmost performances.
If you want to create your own personal customer service platform for a top-notch professional customer service experience with minimum technical knowledge and time involved, this software could be the answer you have been waiting for.
Sylviane Nuccio