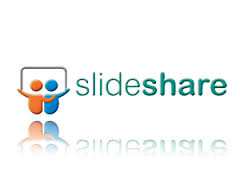 Last week I posted a SlideShare slide presentation to highlight the topic of my post, and one of my readers asked me how I made this slide show.
So, on this post I'm going to show you how it's done with a step by step slide presentation and a video as well. But first…
What is SlideShare?
SlideShare is a presentation sharing site that was founded in October 2006, and which now receives 60 million visitors per month.  On November 2012 they hit a record of 159 pageviews for that month and their average is about 130 million monthly pageviews.  It's one of the 200 websites most visited in the world.
Needless to say that being on SlideShare is not a waste of time. Since last week by doing absolutely nothing, but posting my one short slide presentation I've got 26 followers and 159 views. And again I've absolutely didn't even try to do any kind of connections yet.
This tells me that by keeping on posting and actually getting involved with this thing tool, could bring me tons of positive results.
Interestingly, I was introduced to SlideShare over two years ago, but I after I posting a couple of slide presentations I kind of forgot all about it, and never used it again since last week.
Another excellent feature about SlideShare is that it ranks really well on search engines.
What can you Share on SlideShare?
You can upload PowerPoint documents, PDF documents, videos and webinars.  Once you've uploaded your document on SlideShare you'll be able to share it anywhere like media platforms such as Twitter, Facebook and LinkeIn.  You can share you slide presentation on your blog like I've done right,  and any other Web 2.0 sites that you may be using.
In order to share it on your blog, all you have to do is copy and past the embedded HTML code just like for a video.
Why Using SlideShare?
SlideShare offers a quick and easy way to share quick tutorials and ideas that you put together, and it's a great way to promote you and your online business.  There is no limit to the type of creative slide presentations you can share on SlideShare, and you have the potential to reach millions of people with it.
Want to see it as well? Then just watch the video!
How to Create a Slide Presentation on Slide Share
Register on

SlideShare.net

 (it's free)

Gather some picture of other type of background for your slides (or use PowerPoint tools)

Create slides like you would for any other PowerPoint pretentation you might have done in the past

When done, upload it to SlideShare
Slide share is addictive, and I love it. I have now tons of ideas that I want to put on SlideShare. So, be watching for it if  you're curious.
If you enjoyed this or learned something, please, let me know in the comment area.