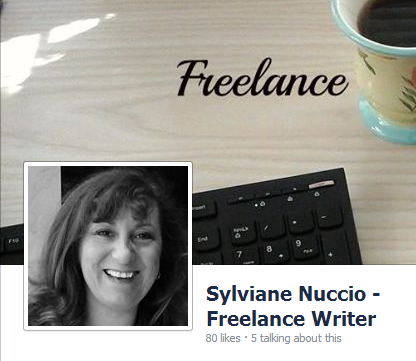 In this post I'm going to show you how to create fabulous Facebook Pages with custom header and tabs, without spending a dime. 
The thing is it's going to look as great as other pages that cost people a lot to look that way. With the money that you'll be saving, you will have extra bucks to spend it on promoting your page instead.
I'm not a Facebook expert by any mean, and some experts are saying that Facebook pages are not what they once used to be. However, I still think that's worth it to have a professional Facebook page for your business.
Until now I've never really put the effort to have even a single decent Facebook page, but now I have 3 good looking ones, and I'm still polishing them as I'm writing this.
So, please, follow my steps as I'll tell you who to create a great Facebook page, and watch the video below once you've read the post, since not everything is on the video.
Set Up Your Professional Facebook Page
One important thing that I want to let you know from the get go is that I've learned that incomplete pages are turned off, so it's very important that you fill out your page entirely.
Make sure you fill out the 15 options under the General tab and the 22 options under Page Info tab. Leave as is only what does not pertain to your particular page, but do fill out as much information about your business as possible. You will find that tab under "edit page" on the top.
To start, you should create an attractive and original header and include a picture of you as the regular picture. Avoid business logos. Remember that people do NOT do business with logos, but with people. So, do yourself a favor and add a picture of yourself, because it works much better than a logo.
Once you're done with the header, start working on your page information as I mentioned above and add your customer tabs.
You Facebook Page Header
If you think that you need to spend a lot of money to have a good looking Facebook page header, you'd be wrong. All it takes is an idea, a digital camera, and a free photo editor.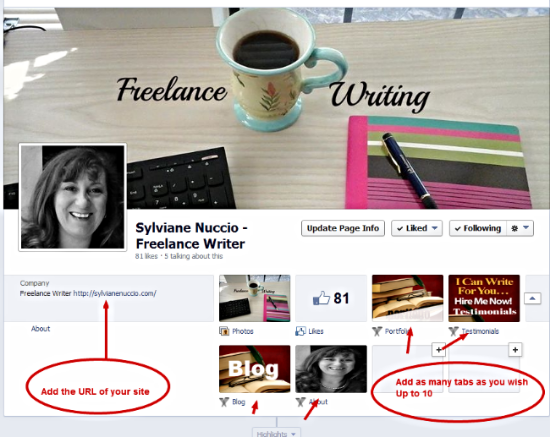 That's what I've done for my own page headers. In the case of my freelance writing page, which I called Sylviane Nuccio – Freelance Writer (since I've shot the video), I simply staged my keyboard, a cup of coffee, and a pen laying on a note book, and took a picture.
Then, I downloaded it to my computer, uploaded it on a free photo editor tool called Photobucket. I added the words Freelance Writing using their text tool and saved it.  Then, I downloaded the finished product to my computer again, and uploaded on my Facebook page. And Voila!
By the way, if you'd like to have a Photobucket tutorial, let me know, and I'll make a video about that too for an upcoming post.
Please, like my page, if you haven't already!
Life Coaching Page Header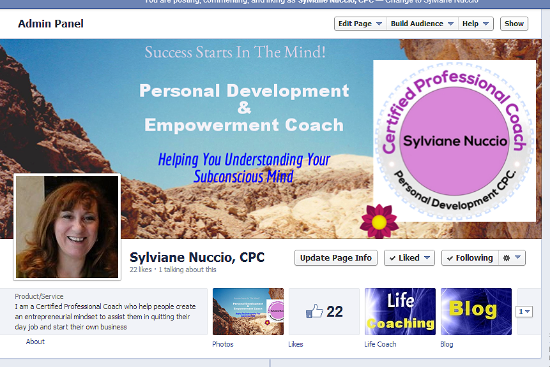 For my Life Coaching page, I used one of my own personal outdoor pictures which I took in Death Valley, Arizona some years ago.
Since this was a hard copy photo, I first scanned it and saved it to my computer. Then I uploaded it on PowerPoint in order to be able to add my Certified Coaching Stamp, as I'm not sure I can do this on Photobucket. Then, I took a picture of the screen on PowerPoint, saved it and uploaded it on Photobucket.
I added the text and decoration. Saved it to my computer and uploaded the image to my Facebook Page. And there you go. Now I have a different style header, but still looking great.
Please, like my page, if you haven't already!
France Travel and Food  Page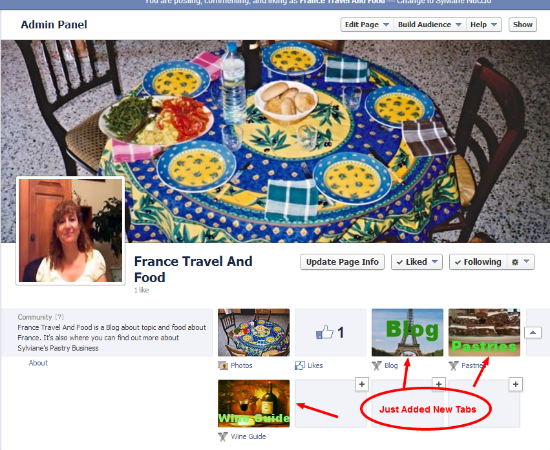 The photo on my France Travel and Food page is also a picture that I took myself, few years ago, at my mom's house. On that one I decided not to add any text.  I also put a different picture of myself to make it a little different.
Please, like my brand new page!
Adding Cool Looking Custom Tabs to your Facebook Page
This is what I'm showing in the video below, but here are the steps so you have them written down.
Go to your Facebook account and search for the app WOOBOX.  It's pretty easy and self explanatory. Choose Woobox custom tab, install page tab by click the green button, choose page (you want to add Woobox for), and add page tab.
Make sure the URL option is ticked instead of HTML. Add the URL you want to link to the tab. Rename the tab, by removing the default "welcome" and replacing by the name of your choice.  Upload your tab image and save settings. You're done!
How To Create Customer Tab Pictures
For your tabs, just like the header, you can create cool personalized picture. What I did for mine is basically taking the background design of the headers of my sites, or chose some cool pictures.
The exact size that you're going to need for you tab images are 111 x 74 pixels.  Here again I can go to photo bucket and size my pictures to this exact size and can uploaded them easily on Facebook.
Photobucket also allows me to write the name of my particular tab, so the name of that tab is both on the image as well as underneath when I name my tab under the tab setting on Facebook.
 Here is a visual of how to set up your tabs.
Please, go to YouTube and like my video there if you can.
Before you go, check my friend Donna Merrill's post about the
benefits of using your Facebook page to attract more business
.
I hope you enjoyed this post!
Please, let me know in the comments below…