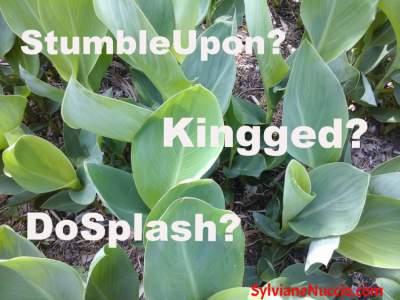 We all have heard that content is king right? Recently I've read few articles talking about how the level of content is going to go higher and higher as more bloggers are becoming experts in their niche and able to write high quality stuff.
So, it seems that the competition for great content is getting even tougher.
But even without that, even if on top of it all, the competition wasn't in the picture, it's undeniably true that if great content was enough, all we would need to do is concentrate on that and we would be done.
Unfortunately, once you've spend hours doing your research, writing and editing your post, you've only scratched the surface, so to speak, because now that your wonderful post exist, you need people to read it, and if at all possible, comment on it.
Great Content is Definitely Not Enough
Writing the best, most interesting, mind blowing article and doing nothing else will get you nowhere. Once your post is completed and you've clicked on that publish button, the real work begins.
The reason I was inspired to write this post is because a blogger named Don Purdum wrote a post titled If Content is King why isn't Anyone Reading my Blog.  The title alone really wants to make you click on that post, doesn't it?
I for one, have written quite a few good value blog posts that haven't gotten nearly the traffic they would have deserved.  The reason for that is very easy to figure out. I do not spend enough time promoting my posts. That's right. And I'm totally aware of that.
Don says that he spends 3 hours daily promoting his blog, and I'm afraid that's the sad truth if you want your blog to really pick up.
At the moment I do not have 3 hours a day just to promote my blogs, but it doesn't mean that I don't know what needs to be done.  It's actually pretty simple, but not easy to do because it's time consuming.
In this post I wanted to discuss 3 sites where you may want to consider spending time promoting your blogs, but before you do consider this…
[box type="note"]The platforms you're using will depend on the niche you're blogging about.  But if you're not blogging about blogging or internet/online marketing, at least two of these three sites might be just for you.[/box]
StumbleUpon
One thing I wanted to point out that I've never read anywhere before is WHERE you should spend your time promoting your blog posts DEPENDING on your NICHE.  Yes, that's right, depending on what your niche is some platforms might not help you at all, while some will do great.  A great example of this is StumbleUpon.
I had an Aha moment on Don's blog!  In his post he was mentioning a few sites where we can promote our blogs, and the first one on his list was StumbleUpon.  So, in my comment I asked him why he mentioned StumpleUpon while many other bloggers have said that this site was either dead or creating an increase in bounce rate.
In fact, he wrote a complete post to answer my question, by the way.  Now, on that post my good friend Adrienne Smith was actually saying that she disagreed with him and she'd stop using StumbleUpon for the very reasons I've heard about before.
On the other hand, Don was saying that it's not StumbleUpon that is at fault here, but whoever is landing on your site THOROUGH StumbleUpon. So between what Don was saying and what Adrienne was saying that's when I had an Aha moment.
Adrienne was saying that people on StumbleUpon are not bloggers, so when they land on her blog they're gone quickly.  That's right. People on StumbleUpon are not bloggers, so don't waste your time there if your blog is geared towards blogging and online marketing.
But guess what?  If you have a travel blog, a personal development blog, a health and wellness blog, a pet's blog a home design blog, and so on, they might actually do very well on StumbleUpon.
I had an Aha moment because I was thinking all the people I've heard say that StumbleUpon wasn't good were blogging/internet marketing type niche bloggers. That's why StumbleUpon is not the right site for them. As for me, I have two other blogs that are not geared towards bloggers at all, so for those I will most definitely resume using StumbleUpon again.
So keep this in mind when you're reading negative feedback about StumbleUpon. This answer is in the niche you're blogging about, not in the social media site itself.
Kingged
Kingged.com is a blog promotion platform that I started using early on in its still young life, and this one is really for those who are in the blogging/marketing niche.  Even though they do have a large selection of topics, it's still goes around the internet marketing type niche.
As a matter of fact, if you have a health and wellness or a pet blog, that's not going to be the type of platform for you. No one will be interested your blog there.
But even if you have a blogging/marketing niche, nothing will really happen there for you, unless you're active in it.  You need to go in each day and read at least 2-3 blog posts and comment on the site as well. When you do, you can actually collect cash into your Paypal account (they reward comments with cash) while getting more eye balls on your blog.
Even though that seems simple enough, it's not necessarily easy to do as it does take added time of the already many things we've got to do. But it's worth it if you want added traffic to your blog.
DoSplash
Even though I've known about DoSplash from its very beginning, I had not gotten involved with it due the same old thing – lack of time.
The good thing about DoSplash is that it works not only for blogging/online marketing niches, but for personal development, health and wellness, entrepreneurship, finance, photography, business, technology, and a few more.  This is a plus in my book.
Another thing I like about DoSplash is that you can't start dumping your links just like that. You need to get involved in the platform by commenting and liking posts first.  But my advice to you here is don't do it only when you have to, do it on a regular basis if you want to take full advantage of this link sharing site.
Like any other social media sites, you need to be active in it if you want to see some type of positive results in traffic. As always, the more you give out, the more you'll receive.
Content is king all right, but only if you make sure that some people will actually read such content. Don't fool yourself, the best of content will be a flop if you fail sharing it on the right places while contributing your time an efforts there as well.
So, your turn now, please, give your feedback down below!