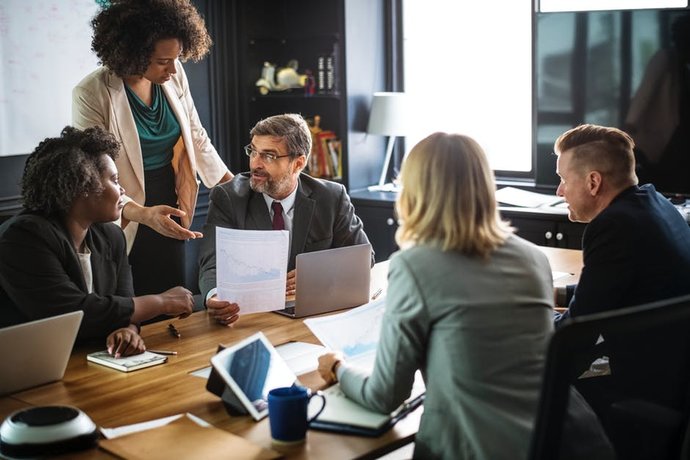 One core component of every successful small business is an effective communication strategy. How you communicate with your employees and clients can make or break the growth and prosperity of your company.
As the rapid increase of industry-disrupting startups continues in 2019, operating as efficiently as possible has become a requirement for the survival of small businesses everywhere. Updating your technology to ensure you have a solid communication strategy is no longer a 'best practice' recommendation, but rather a necessity for businesses to stay one step ahead of their competitors.
Commit to Listening
When it comes to engaging in dialogue with investors, clients or employees, it is important to actually take the time to listen and digest. It's far too common for business owners and leaders to focus on appearing confident and conveying their own message, that they often don't put the necessary effort into actually listening to whomever they are speaking to.
Whether it's a presentation, customer call, investor pitch or simple everyday conversation with employees, listening to questions and providing feedback is crucial to ensuring that your message is being understood in the way that you intended.
Create an in-House Wiki
In order to host all common questions and info in one unified place, create a company-wide database that houses everything from your company's values and beliefs to goals, policies and expectations. Many of the conflicts employees come across are the result of poor communication, and those of the workplace are no different.
Insubordination, misalignment, and failure to meet expectations are most often a result of the failure to effectively communicate those things to employees. Providing access to a company wiki on day one and updating it regularly is a great way to eliminate some of the confusion that causes these workplace issues.
Invest in the Right Communication Tools
Because communication plays such an important role in the success of a business, the tools you use to facilitate company communication are just as important. Keep in mind that finding the best tools for your business should be a careful and pragmatic process based on the specific needs of your organization.
With so many communication tool options on the market, identifying which ones will work best for your company can take some time and thorough consideration. For many small businesses, it can be easier to invest in a single communication tool rather than a larger ensemble of tools.
If this is the case for your company, look into unified communications solutions rather than multiple different standalone options. Unified communication tools seamlessly combine instant messaging, email, virtual conference calls, and contact centers into one single united package. As a bonus benefit, identifying this need and limiting your search to unified communications tools exclusively will significantly narrow your search range.
Encourage Candid Feedback
One way to double check that your small business is doing all it can for the employee base is by providing a fair and transparent way for employees to give genuine feedback.
Innovation cannot best happen with input from internal management alone, and rather should include the careful consideration of external observations. In practice, this can look like giving every employee a chance to state their opinion anonymously through forms, surveys or questionnaires.
Using a simple tool such as a Google Forms survey that can be distributed across the entire company via email is one great example. Soliciting employee feedback using this method gives you an honest way to identify what's working well, what isn't working well, and what can be improved within the communication plan. Just as customer feedback shapes a product, employee feedback should shape the organization. Resisting or refusing to take external input only stifles innovation and creates a hostile working environment that can lead to further problems.
Rules of Thumb
Along with these tools come a few general rules of thumb to help your small business navigate customer and employee communications. A few of the most important rules include:
Avoid controversial topics – Both your customer and employee bases are likely to be a diverse group of people with various beliefs and values. Therefore, it is a good idea to avoid discussing controversial issues in the office or with employees or customers in general. The only exceptions should be if the topic aligns with your company or customer's core values and you are using it as a teachable moment.
Maintain professionalism in communication – This should be a given, but when a customer is berating you, an employee is disrespectful, or a boss is rude, it is imperative that you do not reciprocate. Instead, continue to conduct yourself professionally to avoid making the situation more volatile than it already is. Even if you feel justified in doing so, responding in an unprofessional manner to any employee or customer can have various unforeseen consequences and negatively impact your profits, customer relations and company reputation.
Avoid discussing complex topics or important decisions via text or email – Attempting to communicate complicated concepts or important decisions in writing via text and email can cost you both time and money if not done carefully. If there is something important that you need to ask a stakeholder, it is best to do so as personally as possible either on the phone, through video call or in person. Text-based conversations mask many of the nonverbal communication cues we use to understand exactly what people are saying, which results in frequent misunderstandings.
Use as little jargon as possible – When conversing with employees or customers, it is important to do everything you can to make sure you are clearly understood every time. One helpful way to accomplish this level of understanding is by using as little technical or complex terminology as possible to eliminate any potential barriers to mutual understanding. If you are aware that your company or industry uses terms that could mean something else to someone outside of your industry, keep this in mind and avoid using them when appropriate.
Use images whenever possible – Visual aids are one effective and simple way to clear up any possible confusion others may have about what you are trying to communicate to them. Whether you are trying to communicate through a presentation, email, or instant message, try your best to include an image or chart to increase understanding and minimize confusion between yourself and your audience.
Conclusion
There's no avoiding the fact that as the year progresses, we will see many small businesses come and go. While there is no guarantee that a new small business will be successful, having an effective communication strategy in place can increase these odds. Communication is a universal necessity for businesses in all verticals and industries, and the most prosperous small businesses have their communication plans figured out.