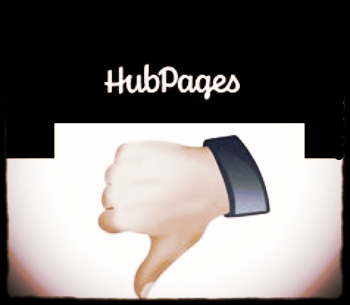 I had scheduled a whole different post for today, but what Hubpages did to me this past week needed to be revealed to the world.
Ever heard the phrase if it can happen to me it can happen to you?
Late last year I had written a post about Squidoo versus Hubpages, and I was giving you advice about those two article directories based on my experience with them.
I was telling you how I got tired of Squidoo giving me a hard time with my articles on their site, and why I preferred to use Hubpages at the time.
Well, as you know, nothing stays the same in the online world, things change all the time whether you want it or not.
This past week Hubpages stabbed me in the back in a way that I wouldn't have suspected a reputable article directory such Hubpages ever do .  But they did!
Today, to inform you about what happened to me, so you could be on your toes if you have content with them.
How it All Started
I had a total of 12 articles (called hubs) under my real name on Hubpages, and the problem started when I decided to write an article about coaching this past week, but first less rewind a little and start this sad story earlier on, so you would better understand the whole thing.
Few months ago, I wrote an article about the Law of Attraction.  A complete out of my head original article that they decided was a duplicate.  It wasn't.
Since I know how hard it is to make those guys understand that something can't be a duplicate since you know that you've written this out of thin air from your own brain,  I thought I'd rather take the darn article back and put something else totally different in its place.
So, this past week, I wrote an article about coaching and place it in the spot of the article that they refused to publish under false accusation to start with.
I put a fresh article in that spot, because you can't delete a hub on Hubpages, so your best bet is to replace any article you can't publish by another.
That's what I did this past week.
So, now I've fixed the problem (I'm thinking), and I'm all happy and excited waiting for my new article to be approved.
However, day after day, my poor article is still not approved and I'm getting notice after notice in my inbox about other people's hubs being approved every day.  What do those articles have that mine doesn't? Nothing!
So, I got a bit impatient and sent them an email.  I admit I was a little rough in my email which basically said, OK, I didn't even expected you'd noticed that I placed a completely new article in the spot of the one that you've decided was a duplicate, but at this point I just want to know if you're going to post that article or not?
I clicked sent and forgot about it all for a couple of days until this past Thursday where I decided to Google the phrase "Sylviane Nuccio Hubpages" which would lead me directly to my account without login in and see if my last article was there.
This is how I discovered that they had taken down ALL my hubs (articles). They were not deleted, but they were all disabled. EVERY SINGLE ONE!
Bye bye my how-to's about freelance writing. Bye bye my article about the danger of bullying, bye bye my cat story (a memorial to my Tony) which had quite a few comments, and so on.
Every single hub had been disabled by Hubpages. I assume by someone who didn't like my email or maybe who was on her PMS.
I was totally shocked as I had never even thought that an article directory could have a grudge against one single customer.  Because, yes, by the way, anyone posting articles on their site is a customer to them, and should be treated as such.  They make money thanks to us. That's why Hubpages actually advertise on places like Problogger to get people to write for them.
Could I Ever Trust Hubpages Again?
Frankly, I was totally shocked by their behavior and couldn't believe it!  Since I wasn't home when I saw that, I couldn't wait to get home to remove all my hubs from there. Which I did.
As I mentioned above, you can't deleted a hub entirely on Hubpages, but you can delete each module one by one, and in place of the title I wrote a big fat "DELETED".
Today if you'd looked at my account, it's as if I had never posted a single word there yet.  So, on top of entertaining a grudge, looks like Hubpages is also a liar in a way, because, I sure had articles there that were as good as anyone else's featured there, anyway.
When I was taking off all my hubs I could see a warning highlighted in yellow that said "Warning, this hub might be deleted for suspicious links".  Wow, suspicious links? Are you kidding me? The darn hubs linked only to my blogs and YouTube.  What suspicious links? Looks like someone has some serious issues over at Hubpages!
Sad, to say, but you bet I will have some serious trust issue with Hubpages from now on.  Looks like they stab you in the back and they lie to cover their tracks.
Why you Need to Beware of Hubpages as well as Other Directories
I know I've said that in the past, but this is the perfect time to remind you guys who might trust article directories too much.
Once you post an article on their site, it doesn't really belong to you anymore, and they control if and when they are going to publish it or taking it off the web.
If they decide that your article is a duplicate, then it is. If they want to be picky and drive you crazy with an article, they can.  If they decide that your links are suspicious (even if they're not), they are. If they want to get back at you because they didn't like the tone of your email, they can.  Don't ever forget that!
Three Important Lessons to Learn From what Happened to me with Hubpges
Sorry if this post sounds like a big rant, but this is a free country and right now I find Hubpages pretty petty, and I had to tell what they did to me!
Here are three lessons I've learned the hard way with Hubpages, and I hope you can learn them too in a much softer way then I did.
Lesson #1 – If they decide that your content is a duplicate, there's not much you can do to change their mind.  They will always be right and you will always be wrong.  Do not ever replace an article that they flagged.  Just write another brand new article.
Lesson #2 – If you publish an article for a directory, they control the show.  You have no say.  This goes not only for Hubpages, but all directories.
Lesson #3 – They can shut down your account for no reason at all. Just because they want to.  Sad, yes, but so very true.   So, make sure you always save all the content that you publish on directories.
What's the Positive Side of all this?
As a coach I am trained to see the positive side of anything and everything. As a matter of fact, if I didn't have such training I would have probably been very upset this past Thursday. However, while I was shocked I certainly didn't let that upset me.
I made sure I took out all my content, and saved it before it all disappeared completely, and I will most definitely re-purpose it somehow.  As a matter of fact, I already have some ideas.
In the end I'm not the loser, Hubpages is. They will be missing on quality original content that they are begging for on their advertisements.  If they don't watch their act, they may be losing out  in the end, no matter how big they think they are. They need people to write for them!
So, that's all for today's big rant, but it needed to be said. This is the beauty of blogging.  I am the writer, the editor and the publisher and I say what I want to say!
Now, it's you're turn to say what you have to say about this.  We're listening…