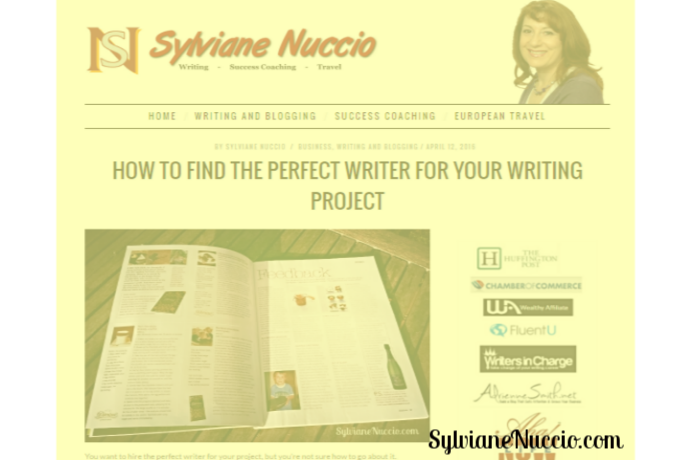 You manage a Linkedin group, and you feel offended when someone submit a link to their last blog post.
Yes, you.
Why am I saying this?
Few days ago, as I was joining a new Linkedin group, and was reading the welcoming statement of the manager/owner of the group, I read: "Do not post blog posts, instead share valuable insights and interact with members."
As I was reading these words, I couldn't help but thinking, aren't blog posts full of valuable insights and the best way ever to interact with others?
I think that this type of thinking comes from the belief that blog posts are useless self-promoting pieces of content, which business owners only use to lure clients or customers.
Well, if you ask me, that's a huge mistake to think this way.
What do you think?
I would love to hear your feedback about this in your comment below, but first, let me tell you in detail why I think that's not right to think this way.
Where does the Idea that Blog Posts are Promotional come from?
Tell me if I'm wrong, but I feel that the idea that a blog post is of little value comes from the days when a blog post was a load of keyword stuffed with nonsense, if not just a big advertisement opportunity for the blogger's product or service.
I have read such blog posts many times in the past.
I even have to admit that I've written blog posts for clients asking me to stuff my content with ridiculous keywords that made the article barely readable to a real person.
The problem was that Google loved it at the time, and was ranking that garbage pretty high on their algorithm. So they were only encouraging this nonsense.
Then, later on, closer to us, you had those bloggers who wrote blog posts with the sole purpose of selling their product. And as a result, of course, their content was of little to no value.
But is that still the case?
Are blog posts today only promotional pieces of content, with no more value than what I've just mentioned?
My short answer is no.
This is why…
While business owners and marketers have blogs to help promote their business, I know loads of bloggers who write very valuable, researched and detailed content full of tips and advice, which they would never include in a Linkedin or any other social media three line message.
As a matter of fact, most people really caring about their blog, would always keep the most valuable piece of content for their own blog, and would use that content to create extra content for social media, such as a Linkedin article, for example.
That's what I do, and that's what most bloggers do too.
It's premium content for their blog and derived content for social media.
This alone is a pretty strong argument that there's no reason to put blog posts down on a social media group.
Why a Blog Post Today is Way More than Just Promotional Content
As a matter of fact, I read blog posts that are zero promotion and all valuable content.
The only promotional part of those type blog posts is a call to action at the end of the post, but that's only fair to be able to do that at the end of a piece of content in which you've put lots of research, time and energy.
I like to think that whether I'm writing for the Huffington Post, FluentU, Chamber of Commerce, Medium, or my own blog posts, right here at home,  I deliver valuable content.
The type of comments that I receive from my blog posts on a weekly basis are testimonies that I don't just promote my stuff with my content. I truly help, inform and educate my readers and potential clients.
Here are very recent comments I've got:
"I m a freelancer and this post really motivated me and changed my way of working online. Thanks".
"It's my first time on your blog, and surly I'm impressed what I'm seeing…"
"Thank you so much Sylviane for your inspirational post…"
"Awesome posts as usual. You don't know how many people you are motivating…"
I could go on and on…
Yes, I'm proud to say that you can learn a great deal about writing and personal development topics just by reading my blog. And you can get an amazing amount of knowledge just by reading blogs out there. I know I do as a blog reader as well.
So I totally disagree that blog posts are just promotional content, not deserving to be posted on a Linkedin group.
This is just a preconceived idea, that doesn't hold when it comes to today ever so becoming more and more valuable blog content.
How I Make Sure I Create Valuable Content for my Clients' Blog
Many of my clients contact and hire me for two main reasons.
1- They don't have the time to handle the writing and content management facet of their blog.
2- They don't know where to start when it comes to writing for a blog.
So, that's where I come in.
Some of my clients have been in the blogging business for years, and they know exactly what a blog post should be made of. They know that they want blog content that is valuable, no BS promotional type. Something that their audience will be able to learn from and refer their friends to.
And some of my clients who have never been bloggers, are not sure what a blog post should even look and sound like. Some of them even think that a blog post is all about promoting their business and services…
In such case, it's my job to educate my client and explain to them that they need to focus on the needs of present and potential customers, rather than on themselves.
In order to be better able to create custom content for my client's blogs, I ask them specific questions to gain as much insight as possible about their business, so I can translate that information into valuable and useful content.
I ask them questions such as:
In What specific business are you in (what is it that you provide to the world)?
What is your ideal client/customer?
What type of client/customer are you not interested in attracting?
What type results do you want your client/customer be able to experience with your product/service?
How much do you value your audience?
The more my future client is able to answer those questions precisely, the better I'll be able to do a great job for them.
This is so important that if they are not able to answer those questions, it's not uncommon that I'll help them to find out the answers. So, I can start my work on the right tracks.
What's the Best Way to Make sure you Write Valuable Content for your Blog
Here are 3 main points that are going to help you create great content that people will love.
1) Make sure you have defined your target market.
As a businessman friend of mine always says, make sure you know "what business you're really in," in order for you to make sure that you can rightly define your audience and their needs.
This will help you to tighten up your content, and make it more specific in nature. Thus more helpful and valuable for that specific audience.
2) Make sure you address your audience needs specifically.
Here is my own example…
For the life coaching side of my business, if I were to simply sell happiness or success, I wouldn't be able to get any client that way. What I need to do, is address one specific problem at the time. Define a specific pain point for each person and address it in that particular blog post.
Vagueness doesn't work and certainly doesn't sell.
It doesn't work for the blogger, and it doesn't work for the reader either.
Something to keep in mind.
3) Make sure your content is easy to read.
Let's be honest, many blogs out there are boring, and some blog posts are very poorly written.
Both those problems will make your content hard to read. And if it's hard to read, you know what people will do, right?
If you don't know how to write entertaining and interesting content in good English, you are not going to attract any business with your blog, for once, but  your content won't be of high quality either.
If for any reason, writing is not your thing, it would be worth it for you to hire a professional that can write content for your business blog.
Conclusion
Blog posts' content should not be put down as much as it is by some so called knowledgeable business people who put their social media platform in high esteem.
However, not all blogs are easy to read and worth our time.
But this said, most blog post content out there, nowadays, is a little encyclopedia of its own, on any given subject. Those blog posts have a minimum of a thousand words, and in many cases much more than that. So, let's keep in mind that blog posts should not be considered negligible content without value.
I for my part, always write to inform and educate my readers, and they certainly confirm that to me every week.