What on earth is the Palais Idéal? 
The Palais Idéal (the ideal palace) is the name that was given to the majestic art effect built by Joseph Ferdinand Cheval, a mailman who lived in the southeast of France between until early 20th century. This year it's the 100th anniversary of the completion of this exotic little castle built by one single little man who had big dreams.  Come with me and discover this little wonder of France which is the Palais of Joseph Ferdinand Cheval better known as facteur cheval.

A couple of years ago I had written a post about facteur Cheval (mailman Cheval), and you can check that post right here for extra details about him and his work.
I grew up only about an hour and a half from Hauterives in the Drôme department where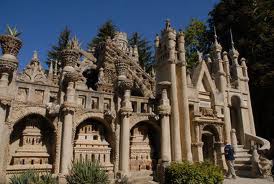 Cheval erected his exotic palace.  I appreciated best the second time around as I was older.  This beautiful and unusual construction attracts many tourists from the world over, especially in the summer time, and I am sure that you will enjoy visiting this site if your travels take you in the area.
Who was Joseph Ferdinand Cheval?
Joseph Ferdinand Cheval better known as facteur Cheval would have spent a totally anonymous life if it wasn't for his dream and vision of a feerique castle.  For 10 years of his life as he was traveling the roads of the Southeast country side of France, every day, he had nothing else to do but get his mind busy with thoughts.  He started to visualize that "palais" (palace) until one day he stumbled on a strange looking stone which he picked up and put in his bag to examine later.
Once he got home he examined the stone and noticed that it looked both beautiful and rare looking.  The next day, he went back to the spot where he found that stone and found more of them.  That was the beginning of the dream taking shape. He started gathering more and more stones, first with bags, and eventually using a dolly.  Every day for over 30 years he was gathering stone on his mailing route by day and building his castle by night.
About the (Palais) Palace
The aspects of the Palais Idéal also called Palais du Facteur Cheval (Palace of mailman Cheval) are many and I am sure you will get a better visual experience if you take a look at the video below, and even more so if you go visit this beautiful building.
Cheval wanted his monument to be an anthem to nature and architecture.  As far as nature is concern, Cheval included a great number of sculpted plants and animals which are part of his ideal palace and as for architecture is concerned he was inspired to include styles taken from the Bible, the Egyptian and Hindu architecture.
The building of the palace started in 1879 and ended in 1912.  Cheval wished to be buried in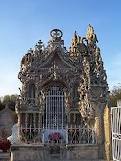 his castle but according to the regulations of the time it would have been permitted only if he was cremated.  Since in those days cremation was less than unusual (mostly non-existent) in France, he took another eight years to build his tomb of the same style has the palace.
The Construction
The construction didn't happen overnight. This is was a life time dream which took a life time to come to completion.  When Cheval had gathered enough stones he started with what is call the North Face (la Façade Nord).
To assemble the stones and rocks he used lime, mortar and cement, his own hands, and some basic tools.  There are several signs that are embedded in the building and one of them says as a reminder for generation down the road that is was the "work of one man".  You can see that sign in the video bellow in French, of course.
The North facade is the one side of the monument that celebrates nature with lots of plants, trees, animals and even 3 giant humans seeming to hold the wall of the facade.
The West facade is more architectural featuring miniature temples such as a Hindu Temple, a Swiss chalet, a middle age castle and a square Algerian house.  On top of these is a huge balcony of basically the whole length of the palace which you have access to by stairs.
On the South facade you can find the caves and many animals such as pelicans, crocodiles, and deers.  The whole thing is a wonderful experience you won't forget.
In the summer there are Jazz concert in front of the East face of the building.
Take a look at the video and give me your feedbacks.