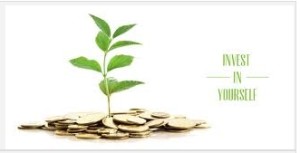 This is a guest post from my friend Neamat Keriakos whose writing talents and sweetness I recognized in her almost instantly.
Having been so busy lately with so much stuff going on, her guest post comes at the right time for me and for my blog. So, here I leave it to Neamat…
To Invest In Yourself means to improve yourself.  If you exchange your time and effort for increased skills and knowledge, relationships, and better health, you will definitely see results later on in the future.
You should make use of any spare time for self-investment instead of wasting it on things that truly do not matter.
When I talk about investing here, I don't mean only the financial kind of investment.  But to Invest in Yourself is just as important as the financial investments and savings are to your future. You are the true greatest asset: YOURSELF.
Do You Know That You Are an Asset?
You are an asset. Think about that for a minute. If you work for someone else, you are an asset to that company. If you're married, you are an asset to your spouse. And it goes without saying, if you are a father/mother, you are an incredible asset to your children. You're an asset to the community you live in, and to those you interact with on a daily basis.
To Invest In Yourself and become a valuable asset is important on both the professional and personal level.  If you want to be an asset in your business and become the "go to" person in your Niche, you have to become a student of your Niche and gain the value that will get you ahead of your competitors.
This is very important in your business but it is equally important on a personal level as well.  Both your personal and professional life are interconnected.  Investing in your professional aspect of life will affect the personal aspect of your life and vice versa.  The first and most important investment always needs to be in YOU.
Here are some ways you should continuously consider To Invest In Yourself
Invest In Yourself: 1. Your Health
Before you can make improvements in other areas of your life you must first take care of some of your most basic needs. Forget about money for a moment. Money is important, but without your health, it's worthless.  Your health, first and foremost, determines how effective you are.  How you treat your body determines your mood, your ability to focus, and how you treat others.
In short, how you feel determines how you behave – and the best way to feel great is to live a healthy lifestyle.  Here are some simple ways to invest in your health:
Eat well: This doesn't mean you should go on a drastic diet, but just a few little changes such as, maximizing your green vegetable and fruit intake while minimizing processed foods in your diet, can go a long way.
Sleep well: Figure out how much sleep you need to function at your best, and make it your mission to get that much sleep every night. Your body does need sleep. Give it the rest it deserves.  Think about all of the time you waste when you aren't completely focused or working inefficiently because you're fighting the urge to sleep.
Instead, use the time and get some extra sleep. You'll wake up feeling better, your body will be rested, and you can make better use of your waking hours, not to mention improve your overall health.
Exercise Often: Exercising creates energy through a healthier body while releasing brain chemicals to improve your mood and mental alertness. Engaging in exercise makes you feel good and stay mobile.
Getting the fundamentals of living healthily is essential to being effective, focused, and feeling good each and every day.
Getting the fundamentals of living healthily is essential to being effective, focused, and feeling good each and every day.
Invest In Yourself: 2. Expand 

Yourself
Knowledge and Skills:
Your knowledge and skills are the places where you can actually see your improvement.  Even if you are highly educated, learning will never be over.  You should still be looking for ways to expand what you know through lifelong learning opportunities.  Read all what you can get your hands on when a topic interests you.
Reading books, trading ideas, and learning how to do new things will make you smarter and will also help with your thinking and creativity, you'll be able to combine knowledge from various sources in order to solve problems.
Pay attention to develop your marketing skill set that will help you grow your business, or give you the experience necessary to help your team.  Knowledge is power, and is one of the best investments you can make in yourself for both the present and the future.
Being more skilled will make you more essential in every area of your life.  To invest in your skills,  push your limits to become better. Period.  By doing so, you're adding another tool to your skills that will come in handy later in life.
Investing in your knowledge and skills allows you to be a more versatile, competent, and interesting person.
Invest In Yourself: 3. Networking and Relationships
Your networks and relationships are also great things to invest in.  As humans, we're social beings.  It's not who you know, but what you know, right? Just as important as having the knowledge and skills to do a particular job, you need to have connections.
These connections will open up opportunities that can be used to leverage your skills and find the best path to reach your goals.  With each and every relationship you make (or try to make), you're presenting yourself with another opportunity to enrich your life and others' as well. Great relationships are like nothing else in life, and we should treasure them all.
Keep in mind that this also applies to your family. Taking time out of your day to spend time with your children, for example, can be seen as "investing", since you're planting the seeds for a deeply fulfilling relationship.
Invest In Yourself: 4. Build Your Brand
You are your own brand.  The way you represent yourself and how others see you is your own personal brand. Whether you like it or not, your actions and words speak volumes about who you are. This reputation can follow you for the rest of your life, so it's obviously important to build a positive brand as opposed to a negative one.
Brand yourself as someone you'd like to be seen.  Display what you stand for and leave a good impression with people.  Make an effort to determine what your personal brand says about you and invest some time in creating a personal brand you're proud of and you can leave as a legacy for your children in the future.
Invest In Yourself: 5. Remove the Limitations on Your Abilities
Probably the best investment you can make in yourself is to remove any limitations you have placed on your abilities.  Many people
have an opinion of what they are capable of achieving – and what they're not capable of achieving.
 I am guilty of that myself.  The limitations we place on ourselves are usually much lower than what we are physically capable of, but because we are convinced we can only do so much or achieve so much – those limitations and beliefs become our reality.
Learn to re-wire your belief system and consciously remove any mental barriers you have for what you can accomplish.
Invest In Yourself: 6. Be Open For Good Changes
Be open to change and embrace it for the positivity associated with it.  This investment in yourself can give you a whole new outlook on life.  It is easy to overlook how slight changes to your belief system and in how you care for yourself can go a long way to improving your quality of life.
Investing in yourself truly makes a difference in your life, your well-being, and your ability to thrive and perform to the best of your ability. The extent to which you Invest In Yourself will shape the way you interact with the outside world.  Your future is determined by your willingness and ability to Invest In Yourself now.
If you enjoyed this article and got some value from it, please leave a comment below and share this with your friends and followers.
Guest Post by Neamat Keriakos