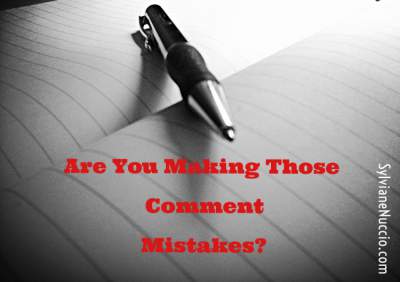 If you have a blog and welcome comments, do you laugh at times at the comments that you're getting?  I'm not even talking about spam comments here. No. I'm talking about some of the real genuine comments that kind of need improvement.
I know I do.
It's interesting to see how some people think that because they're just writing a simple comment on a blog, they can be very casual about it, putting no effort in it what so ever.  Of course they are no "set rules" about how a comment should be, but common sense should be your guide.
I have been shaking my head at times at comments I get.  Yes, long enough that I thought I should write a post about it. Actually, I don't want to emphasis so much on the errors that I see, but more on what you should do when you comment on other blogs.
So here are five simple, yet I think, very important tips that you should keep in mind when you visit a blog and want to leave a comment.
# 1 – Greet the Blogger
When you write a letter, or send an email, you wouldn't even think to start your message without a proper greeting.
Why should it be different when you post a comment?
When you say hi followed by the name of the blogger or guest blogger, it shows that at least you've acknowledge who wrote the post, and that you are really talking to them. The next time you leave a comment on any blog, make sure you say hi or hello followed by the name of the author of the post.
No, it's not something you HAVE to do, but it's kind of much better if you do.  Politely acknowledging the writer of the post is a simple thing you should get into the habit of doing.
[box type="note"]If the blog post has no name attached to it, my advice is don't bother leaving a comment at all. No blog post should be nameless.[/box]
#2 – Address the Blogger with the Correct Name
Now, let me tell you one thing; it might even be better if you just say hello than if you say "hello Jane" when the blogger's name is not Jane.
That's when you may think that a typo is no big deal, right?  You may feel that saying "Hello Sylvia" is good enough when you comment on my blog. But while it's nothing to you, it's not nothing to me, and it shows me that you've not even been here long enough to notice that my name is NOT Sylvia.
I mean I haven't seen that happen once or twice. I see this happen on a regular basis. Now, that really makes me wonder.  I mean if I had to hire you for a job, and you misspell my name like that, you wouldn't be hired. See what I mean?
The truth is that it's border line rude when you make a mistakes like these. By any mean, if you want to be welcome as a new commenter on a blog, the least you could do is make sure your get the name right.
When the blog owner realize that you weren't even able to write their name right, you're not sending a very good message about you. Let's say, you're not giving a very good impression. So a couple more minutes and make sure you get to know the blogger's name.
# 3 – First Time Visitor?
When you visit a blog for the first time, it's appropriate to mention it in your comment. You could start your comment like, "Hi Joe, it's my first time here and I found you fill the bank… Then write your comment about their particular post.
For example, two days ago I found an incredible good blog post by browsing specific keywords for ideas for my France Travel and Food blog, and I said, "hi (name) I found you while browsing the web for ideas for my own blog.  I happen to be French and I have to say that your post is right on target."
Don't you think that's much better than just directly talking about the post without any introduction at all?
Now, why does it matter so much, you might say?
Well, it does matter because blogging and online business are all about building relationships, and if you write a first comment on a blog that's very impersonal, it's not the best way to build a relationship with the blogger, is it?
On top of this, if you are personal and sound like a real person, you will stand out amongst all those who are not, and the owner of the blog will know instantly that you're a genuine commenter and not a spammer.
People in general have a tendency to respond well to people who are more genuine and not afraid to show the human side of them. Telling the blogger how you find them is a very good ice breaker, and you can't go wrong with that.
# 4 – Scanners Beware
If you have the bad habit of just scanning blog posts, rather than really reading them, beware of not leaving a comment that's really beside the point.
At times, I can tell a scanner just by reading their comment and how they really didn't get the point of my post.
While some posts may be easy to scan, some are not.  I'm saying this because I think of my personal development blog, for example. My posts there are simply not "scannable,"because the topics are so deep that unless you read the whole thing, you won't be able to fully grasp what I'm saying.
This is to show you how at times, if you want to comment and all you've done is scan through the post, you might give yourself away in your comment.  Something to think about, don't you think?
Don't give a bad impression of yourself by giving a comment that's beside the point.  Remember that the more you read the post the better your comment will be.  So, reading the post in the first place already set the stage for the quality of your comment.
# 5 – Did you Spell Check?
My experience with comments on my blogs is that some people don't even bother spell checking their comments at all. At times, everything goes. Small to huge errors and misspells in a two small paragraph comments.
Really? And you thought that this was acceptable?
When you butcher a comment with tons of misspellings in it, what does that tell about you as a blogger?  If you're not able to write a decent comment of 2 or 3 paragraphs, what do your blog posts look like?  Do you think I would be compelled to go visit your blog?
The point is that your comments do tell about you. Did you pay attention to the name of the blogger? Did you just scan the post? And can you even spell check yourself? All of that can show up in a simple comment and tell much about you.
Give yourself a favor and spell check your comment before you hit the submit button. You can't correct a comment once you did, so do it first, and you'll be happy you did.
We all make mistakes. At times when I edit my comments I see crazy errors I can't believe I've made. Well, if I didn't spell check they would be there for everyone to see.
At time I see some errors that are so bad that I go in and correct them, but at times I also leave your comment as is, so your choice.
Conclusion
So here you have it. 5 easy basic rules for you to remember the next time you comment on a blog post. If you follow those very simple common sense tips, it will be for your own benefits.  Now, see if you can remember them as you leave your comment down below.