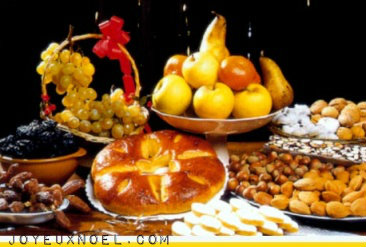 There use to be a time when people celebrated Christmas in more simple and meaningful  ways, in France, and the night before Christmas, Christmas Eve, called "réveillon" in French, was a night of remembrance and celebration.
Such celebration was emphasis by a special festive dinner after the midnight mass.  Such dinner had to include 13 desserts which has a specific meaning.  Such Christmas Eve dinner was traced back to 1683, even though it might have been older than that.

The 13 desserts of Christmas (les 13 déssèrts Noël) are a Christmas tradition from Provence, the south of France. It's based on the religious celebration of the Nativity and each dessert has a specific meaning and purpose.  The reason why there are 13 desserts is because they represent the 12 apostles and Jesus.
According to different ancient sources the 13 desserts have a slightly different origins, but regardless of this, they at least all agree to be of religious Christian based origin based on Jesus birth which includes four symbols
The four mendicant religious orders
The breaking of the bread by Christ
The fruits of Africa referring to the Magi
The black and white nougat representing the good and evil
According to different traditions and regions the desserts may vary a little, but there is actually an official list and it goes like this…
Pastry
 Confectionery
2.  White nougat
3.  Black nougat which (representing good and evil)
4.  Candied citron (also called succade)
5.  Quince paste
 Dry Fruits
6.  Walnuts or Hazelnuts which represent the order of the Augustins
7.  Almonds which represent the order of the Carmes
8.  Dry figs which represent the order of the Franciscans
9.  Raisins which represent the order of the Dominicans
Fresh Fruits
10.  Pears
11.  Apples
12.  Oranges
13.  Dates
Some people replace some of the fresh fruits above be melon or grapes.
Feast, historical facts and tradition meant to remember the true meaning of Christmas.  While this is still a very common tradition to this day, especially in the south of France, most people add much more delicacies to it nowadays.
I hope you enjoyed this post, let us know what you think down below!