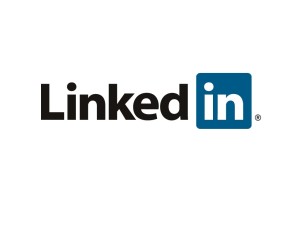 Do you know what you're doing with linkedIn?  The reason why I am asking this question are two reasons, really.
First, I really didn't know what I was doing with LinkedIn until now, and that's why my profile really sucked.
Second, while browsing around LinkedIn profiles I realized that  many bloggers and online marketers who are using LinkedIn, don't use this tool to their best advantage, to say the least.
Interestingly, it seems that people who's job is not to be online do a better job with their LinkedIn profile, than we do. Something is not right here!
Guys, if you are reading this, and have a linkedIn account go check it out and see how your profile looks like. If you don't have one yet, make sure you start one now!
For example, I've seen online marketers making mistakes such as saying saying things like "I'm no expert", "I'm not an expert in…"  Really?  Is this what you really want people to see you as when they look into the summary of your profile? "A non-expert?" I think not.  And this is why…
LinkedIn is a Site where you Introduce you as an Expert
I don't know if you are fully aware of this yet, but LinkedIn is where real professionals hang out.  Forget about Facebook and Twitter, here.  LinkedIn is where you need to BE if you want to be taken more seriously as a business owner, and entrepreneur.
Through LinkedIn you can network with professionals like you, and find people who need your services, your expertise and your business. Not the time to tell them that you're no expert.
If go and look at career people or even those who just have a regular job, they make themselves seen as expert at what they do.  So why don't you?
Being seen as an expert can only serve you well on LinkedIn. Being seen as someone who has no clue, will not be to your advantage on LinkedIn.
Here are few tips to make your LinkedIn profile work better for you, rather than against you. Because, one think is sure, if it doesn't work for you, then it will work against you.
Write a Professional Sounding Profile
Make sure that you have a clear and professional looking profile summary. The summary of your skills is the first thing that people see when they land on your profile page, so make sure it reflects well who you are, what you do and what's your expertise.
Remember, you are not bragging here, you are just making sure that you are not losing your time on LinkedIn but present yourself as the professional that you are.
Add links to videos throughout your Profile
I just added a couple of  videos on my profile, which until now I had no idea I could do on LinkedIn.  I'm not talking about posting videos in your news feed, but right under your profile summary and experience.  I think that's a really cool feature that you should take advantage of if it's appropriate for you.
I have one at the end of my summary, as shown below, and two more in my experience section.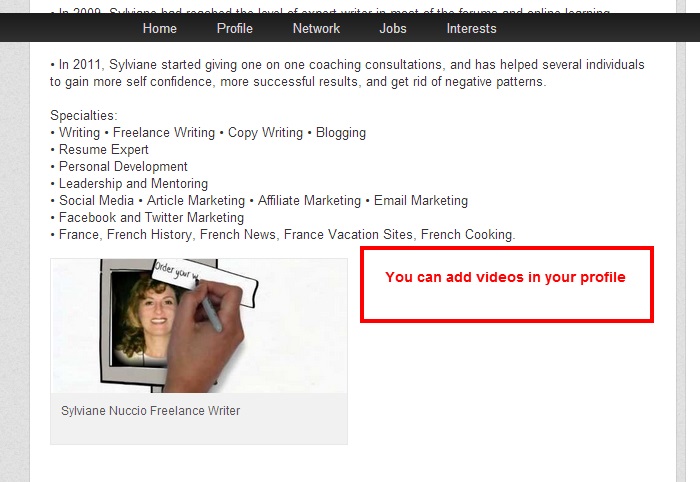 Claim your Costumed URL
If you  haven't created you costumed URL, yet,  your linkedIn link might look something like this: http://www.linkedin.com/profile/view?id=51916069&trk=nav_responsive_tab_profile.  Not very attractive, and way too long.
LinkedIn allows you to create a vanity URL that you can share around instead of that long ugly one.
To do this, hover the mouse over your avatar (top right hand side) go to Privacy & Settings.  It will prompt you to re-inter your password. Click on Profile – Edit Your Profile, and finally on Customize Your Public Profile.
This is my customized public profile URL: http://www.linkedin.com/in/sylvianenucciowriterandcoach.  Much better, isn't it?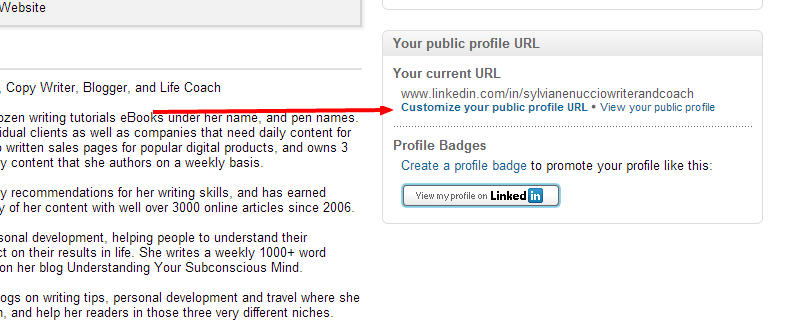 While you're at it you might want to get your own LinkedIn badge as well, and use it on your blog, website, emails, etc.
In order to do this, just click on Create a profile badge, chose the design you want, copy the code and past it wherever you want.
Here is mine.
 Edit Your Websites Links
You can add up to 3 links of your blogs or websites, and you can use an anchor text rather than the URL to  make it more attractive.
In order to do this, click on edit profile… than click edit contact info.

Click on pencil icon… Then click on down arrow and choose OTHER.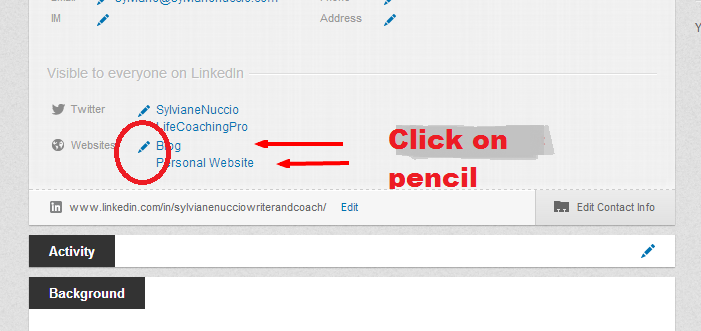 Insert titles and URLs. Click save, and your done.  Your link will show on your profile under "Addition Information."

Join Groups
Once your profile is ready, you should look for groups within your industry and start participating to the discussions. When you have contributed to the group for a little while, you can request to connect with some members of the group.
Groups are the only way to connect with people you don't know personally on LinkedIn. So its well worth it to try to join groups and connect with people.
I never had any doubt that LinkedIn was a great tool to network with professionals and potential clients, but I have to admit that I was dragging my feet to make sure that I had at least a professional looking profile and try to connect and be seen by other users.
What made me decide to finally go ahead and update my profile and be more engaged on LinkedIn is that I've seen people getting really great results with this professional social media platform.
Just as any other professional out there, it's important for you and your online business to be on LinkedIn.  So, the question is, are you taking advantage of LinkedIn to the fullest?  People getting great results, do.
Let me know what you think by leaving  your comments below…