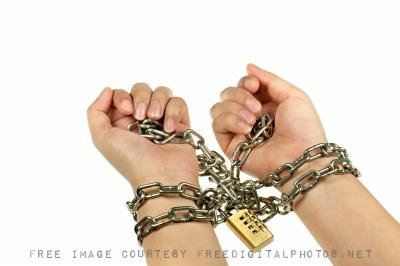 Do you have chains that hold you down? I'm not talking about physical chains, of course, those could actually be cut off in just a couple of seconds with the adequate tool.  No, I am talking about mental, psychological, and emotional chains.  You know, the ones that you can't see, but that are so strong that it would take more than a tool break through from.  You know what type of chains I'm talking about right? Do you have a few of them holding you down?  If you do, don't be ashamed, I had more than I could count myself, and it took me a life time to get rid of them, or most of them anyway.  But it's because I didn't know any better. Today, however, because of the abundance of information available to us, we can know better. If only we wanted to!
What Types of Chains could be Holding you Down?  
We as humans are master creators of mental, emotional and psychological chains.  As society we invented them since the beginning of times, and some of them are quite resistant and strong.  So much so, that we are still under their heavy influence, and probably will be for quite some times.   Depending where you were born in the world, you may have more or less chains holding you down. Some could even have been added on along the road, and some you might have been added by your own self.  So, let see what type of chains could be holding you down and why they do.
The Tree Main Factors
Even though there might be multiple sub-factors that holds us down, my few years of studies and meditations on this topic have always brought me back to three main elements; Cultures, religions and beliefs.  As a matter of fact, there are all three forming a close net for the most part.
Culture
How can your culture be a chain that holds you down?  What is a culture, really?
Well, it's a set of rules and beliefs that were created by a group of people living in a given area of the world.  It was then passed on from generation to generation.   Any group of people living by any culture rules have a tendency to have a certain mind set.  If you are thinking that I may be talking only about some Far East type of cultures, you're wrong.  I am talking about any and all cultures.
We are all raised in some type of culture that puts boundaries in us, and we frown on those who dare thinking different.  Without you even being aware of it, you have a shaped behavior and belief system that is due to your culture.  Only by beginning to realize this fact, can you begin on the road of freedom.
Now, I'm not talking about the freedom of doing whatever you want even if it's illegal or hurt others. Don't get this wrong now; I'm talking about opening your mind to your higher self that is above any cultural beliefs of this world.  This is usually achieved through meditation.
Religion
Now what is religion? Well, religion is a culture within a culture. I happened to have studied religions for 10 years of my life while being in it.  I wouldn't say that I am an expert in religions, but I can tell you that I did my homework, and learned a lot about it.
What religion does it's take a group of people within a culture and teach them a set of beliefs on top of cultural beliefs.  In most cases, beliefs based on religion can be much heavier than cultural beliefs, because it makes the individual feel guilty or bad if they fail at following the rules.
As a matter of fact, some religious rules will turn out to make you feel bad without you doing anything wrong, but just by not doing your upmost.  Be outstanding! I remember a preacher who once said, "if you don't feel like it's hard, you're doing something wrong".  This was from a well known church in the US that also exist around the around the world.  Imaging the burden that this put on people?
Talking about chains that hold you down!   This can even go so far that individuals may feel that they will never be up to the task and make them feel worthless and depressed.  Now, I'm not affiliated to any religion anymore, and I am not defending or trying to put down any specific religion.  I am only speaking of them as the cultural movement in a culture.
Beliefs
Our overall beliefs come from a mixture of our culture, religion and the very family where we grew up in.  Beliefs are the results of a nucleus in a nucleus in nucleus. As you grew up, depending how you were raised you acquired different beliefs about life, success, education, money, marriage, lifestyle, values, etc.  The list could go on and on.
Your set of beliefs would be based on your culture (where you grew up in the world), you're religion and the specific beliefs of the people who raised you.   All of these, pretty much, will shape your thinking process and ultimately your overall personality.  If you have what people call "a strong personality", you might question everything and anything.  On the other hand, if you have a rather mellow personality, you might just take it as it comes.
So who are you? I've never been someone who just takes things.  Ever since I was a small child, I've questioned everything I've learned, especially, big deep stuff, and I had a very bad habit not to comply like others did.  Out of all my first cousins on both my mother and father's side who were around my age and which whom I grew up with, I was always the "leader", even though two of them were older than me.
Needless to say, I was a handful for my single (widow) mother.  Sometimes she would tell me, where are you coming from? And I would jokingly answer, you should know more than me where I come from!  I also made my share of enemies for being me, but looking back I don't care about that at all anymore.
What about you? Are you letting chains holding your down, just taking it to the point that it completely blinds you? Or are you questioning things?  The more you will be questioning things the more you will revive that higher part of you, what coaches like to call your Higher Self.
When we do a little house cleaning, and get rid of the the man made sets of beliefs and meditate on life itself, we are letting our Higher Self speak to us. Once we do, we not only feel free, but our life take a turn for the better.
Your turn now, what types of chain are or might be holding you down?