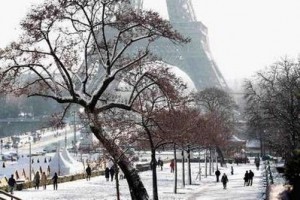 Huge snowfall on Paris today paralyzed the whole city.  The snow that came down on the capital city of France, today, was one like none other in decades. Everything was shut down from the Eiffel Tower to the metro system which serves all the corners of Paris.  Everything was shut down and put the city to a standstill. The best way to travel through the city today was by foot or skis.

Snow in Paris is rather rare, but because of the extreme cold that we have been seeing these past week,  from the Americas all the way to Europe, gave the perfect conditions for a huge snow fall to form in the sky above the light city and covered it in just a few hours over night.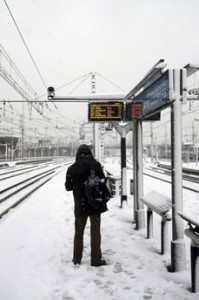 Even though snow can paralyze a whole city and be a huge inconvenience in places as busy as Paris, it also brings some calm and quiet as well as joy in the people who are witnessing such an unusual weather conditions.
Curious locals and tourists were all walking the street armed with boots, heavy coats, hats and gloves and of course their digital cameras to take very special pictures of a very special city which put on its white coat for this winter 2010.
White Christmas is something everybody loves, because it adds to the beauty and magic of this already magic holiday.
Being in Paris while enjoying a white Christmas is something to die for! What a wonderful experience if any!
Yes, it snowed in Paris today, and only mother nature knows how long it will stay and if more is to come for this cold December month putting an end to the year 2010.