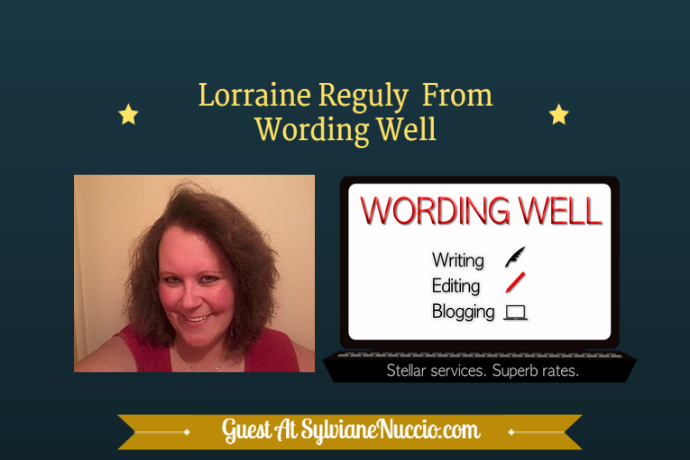 You may have thought that my guest today would fit my writing category, but the reason she she's here on my personal development section is because she's got an incredible story to share that could be so inspiring for many of you.
She agreed to share it on exclusivity on my blog.
So, before I let her tell you her story here is my custom quote for her…
Take a strong talented woman who's been through hell and back with success at the end of the tunel, and you get Lorraine Reguly!
My life has not always been easy.
Nor has it always been pleasant.
Instead, it's been filled with a lot of struggles, obstacles, and pain.
Some of it might have been my own fault but a lot of it was not. I know that now.
Pinpointing where it first went wrong is easy.
I was 14. And a virgin. And I was raped by a man over twice my age.
Rape Changes Everything
I was brought up in a fairly strict Catholic family, and I was taught to save my virginity for the man I was to marry, whoever he might be.
That choice was taken away from me in June 1985, two months before my 15th birthday, when I had a fight with my father, and ended up running away from home, jumping out my bedroom window to do so. I had an exam the next day, and so I packed my study notes in the biggest purse I owned, along with my make-up and other personal belongings. I didn't intend stay gone forever, but I also had no clear-cut plan for the upcoming days either.
After exiting my window, I threw my purse to the ground and shimmied my way to the edge of the roof. Carefully maneuvering my body so that was only holding onto the rooftop with my hands, I took a deep breath and let my body go limp as I let go. I landed in a heap, unscathed.
I gathered myself and my purse and ran for all I was worth, down the block, towards Winston Hall, the apartment building where a few of my friends lived – and also where my mother was working, in the variety store in the basement, which she owned.
I ended up at Brian's house. I was friends with both Brian and his younger brother, Paul.
Brian, I learned, had plans to spend the night at one of his friends' house, camping in tent in the back yard. I asked if I could join them, and did. His friend – I can't for the life of me recall his name – lived near a cemetery that was on a bus route, so I'd be able to catch the bus to school the next morning to write my exam. All was going well until the boys were caught with a girl in the tent . . . and I was forced to leave the property.
It was about eleven o'clock, extremely dark, and I had nowhere to go. I had little money and bus pass, but the bus on that route had stopped running.
I dug around in my purse, found my phone book, and called an older friend — Lorne — of an older friend — Debbie — whom I had met at Debbie's apartment. He had given me his number and told me to call him sometime.
I phoned from the pay phone near the bus stop and explained my plight. He was in bed and didn't feel like driving across the city to pick me up, so he instructed me to take a taxi to his place. He said he'd pay for the cab, too, and also give me a ride to school the next day.
I thought I was saved!
I was wrong. Boy, was I ever wrong.
When I got to Lorne's house on Clayte Street, he paid the fare, as promised, then led me downstairs to his bachelor pad, where two large dogs greeted me. It consisted of a bathroom, a tiny kitchen nook, and a living room separated by a half-wall divider from a space that held his double bed and a couple of dressers. Even though it was nearly summertime, it was cold in the basement. The dogs didn't seem very friendly, either. Perhaps they sensed I feared them. I've never liked big dogs, only small ones.
After noticing a couple of cushions on the couch, I asked for blanket, intending on hunkering down in the living room for the night. Lorne insisted I sleep in the bed with him. I didn't want to, but he claimed not to have an extra comforter, and was adamant that there was enough room in the bed for both of us.
Feeling indebted to him, I complied, thinking we were simply going to get some shut-eye.
After getting settled, I tried to sleep, but it eluded me. It was hard to fall asleep in a strange place, in a strange bed, with a man who was practically a stranger to me. Debbie had refused to house me for the night, not wanting to jeopardize the future – I was her babysitter but I thought we were friends, too. Because of our friendship, I trusted Lorne.
Big mistake.
I found that out during the next hour.
First, I felt hands on my body. Then, a husky voice in my ear, as Lorne pulled me closer to him. Then kisses on my neck and face, searching out my lips.
Disgusted, I pushed him away. I protested his advances. I told him I was a virgin. He didn't care. If anything, that turned him on even more.
He kept at me, and forced me into submission. I fought him every step of the way, but I wasn't strong enough to protect myself. He covered my mouth with one of his hands as he disrobed me with the other, using the weight from his torso and legs as leverage.
He tried to make me give him oral sex. I'd never done that before. Heck, the only thing I had done up to that point was kiss a boy! I nearly threw up.
I was in tears, crying, as it dawned on me what began happening next. I was not only losing my virginity, but I was being raped, forced into intercourse against my will. I felt pain . . . and wetness, which I later discovered in the bathroom was blood from having my vagina ripped open.
Throughout most of the rape, I struggled, protested, and cried. I grew tired of fighting him and began praying for the whole ordeal to be over. Eventually, it was. Physically. Mentally, I was scarred for life.
Rape Replay
That evening has replayed itself over and over in my mind for years.
I will never forget that night as long as live, no matter how much I try to. And, trust me, I've tried.
I often wonder:
*What if I fought harder?
*What if I protested more?
*What if I didn't run away from home in the first place? How would my life be different?
There are a lot of "What ifs." Unfortunately, I'll never know an alternate outcome.
Rape Shapes Your Future
Being raped changed my entire life. I no longer thought sex was the ultimate joy two people could share. My focus was lost, and I became severely depressed. I tried to commit suicide, but failed. I ended up quitting high school four times, each semester for two consecutive years.
I turned to drugs and promiscuity. These were my coping mechanisms. At age 16, I found a boyfriend, who was an alcoholic. I ended up pregnant.
I told my mom, too. I also told her I was considering having an abortion.
My mom then told me a story about Maureen. She dated one of my uncles, and I loved her dearly. I wanted her to become my aunt, too, but she got pregnant and had an abortion at my uncle's behest. Ultimately, she married someone else. They wanted kids of their own. Because of what my uncle forced Maureen to do, however, she became unable to bear children. My mom explained that this was a risk I was going to be taking if I had an abortion.
I didn't care. I never wanted kids anyway. Well, not totally true — I wanted twin girls. But what were the chances of that happening?
So I went ahead with the abortion. The day I had it was the happiest day of my life.
The guilt came later, and I often wonder if I killed not one but two babies.
Given Maureen's experience, I didn't think I'd ever get pregnant again.
When I was 17, I learned I was pregnant again. I decided to keep my half-Spanish baby. All I could think about was Maureen and how unfair it was that she couldn't have a baby, but I could.
My son, Julian, made me grow up — fast!
Motherhood Changed Me Yet Again
When I had my son I was living on welfare. I wanted a better life for us than that, so I returned to school.
I graduated high school from a special program for single mothers, and earned numerous awards and scholarships. I was also accepted into the program of my choice and then attended university for 5 years, obtaining a B.A. and a B.Ed. (Bachelor of Arts and a Bachelor of Education).
I moved away to work, and taught high school for three-and-a-half years. I was unhappy with my life, so I resigned and moved back to my hometown, returning to prostitution, which paid better than teaching did.
Two years later, I was then in an accident in which I nearly lost my right leg. I had major surgery to save it. Unfortunately, the accident caused my leg to become slightly deformed, and it will remain that way for the rest of my life.
I was already in a major depression, and this only added to my grief.
My suicidal thoughts returned. I was hospitalized for three long weeks. I was such a wreck that my son moved out and disowned me. For 3 long years we didn't speak or see one another. During the first year, I used drugs again as my coping mechanism, and I ended up smoking crack for ten months. Losing my son was worse than being raped!
Yeah, my life has been rough. Like I said before, some of it was my fault, some of it was not.
I could've made better choices. I could've been a better mom. I could've done things differently.
Coulda, woulda, shoulda.
Getting It Together
In 2011, I got my shit together after one of my close friends moved away.
I stopped doing drugs.
I stopped hooking.
I started spending time with my parents.
My life was back on track.
I was no longer taking prescription medication for my bipolar disease, either. I didn't need it. Getting off the drugs made that much better!
An Illness Re-unites Me and my Son
Then, one day, I got REALLY sick. I threw up for about twelve hours. The next day, my stomach hurt, but I thought it was from puking so much. By the following morning, I was in excruciating pain. I couldn't get comfortable. I could barely move. It felt like I was dying.
The pain I felt was worse than being raped. It was more painful than my leg surgery. It was worse than losing my son. I didn't know what was wrong, so I called 911, and was brought to the hospital.
After ten hours of testing, the three doctors I saw couldn't find anything wrong.
Finally, they determined my appendix had burst, and I was rushed into surgery after being given the option of taking antibiotics and being sent home!
The doctor warned me she might have to cut me wide open. I instructed her to do whatever she had to do to save my life.
I spent six days in the hospital, and had an epiphany while there, after speaking with a 76-year-old lady, who was my "roomie" for two days.
I didn't want my life to end. I wanted it to begin!
Most of all, I didn't want to die without saying "goodbye" to my son.
So I hunted him down. I found out where he worked (he was still in the same city, thank God!), and I wrote him a letter.
He didn't reply. After a month of waiting, I called him.
That phone call was tough, but it was a start. It lasted forty-five minutes. He wasn't convinced I had changed, but he gave me the benefit of the doubt, and we talked every couple of weeks from then on.
Then we met for dinner. We became closer and closer again.
This re-connection process began in October of 2012.
How My Son Prompted Me to Succeed
In December, I asked him what he wanted for Christmas.
He told me to take that money and buy myself something I needed. So, even though I bought him several gifts, I also picked one up for myself: a book called The Writer's Market.
(I had written a book in university and my prof encouraged me to publish it.)
In January 2013, I began a free blog, to get my name out there. I discovered I love blogging. Some of my early blog posts hit the number one spot on Google Search. I then learned about SEO, and how to be a better blogger. I even wrote an e-book, 20 Blog Post Must-Haves. Then I learned about self-publishing. I began earning money by freelancing, too.
In February 2014, Wording Well (my freelancing writing and editing business) was born. In June 2014, I independently published a book of short stories dealing with topics of identity, drugs, abuse, friendship and death — Risky Issues.
I'm currently working on Letters to Julian, and have already begun my autobiography.
I am living proof that you can go through hell several times over and still come out on top. All it takes is commitment to change, a bit of hard work, and persistence to succeed.
Now, clients seek me out. Bloggers want to feature me. I'm viewed as inspirational. My name is out there. Because I've learned so many new skills, I've added more services to my list, too!
And my son is proud of his mom once again.