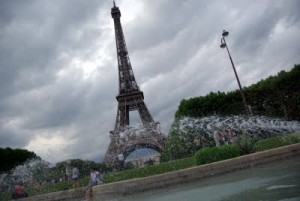 The last severe heat wave in France was in the summer 2003.  However, this month of July 2011 is seeing another heat wave in the country; the difference is that the last time around a lot of people were caught by surprised, hospitals included and as a result of the chaos, a lot of people died.  Most of the country is now peaking at 37 degrees Celsius (98 Degrees F.) which makes the metropolitan areas very hot indeed.

This year, even if the heat wave does reach the heights of 2003 with a catastrophic 15,000 death toll among which most victims were elderly people, the country is much better prepared.  Each "Département" is ready and health facilities are prepared for any type of emergency due to the heat wave.  Hospitals have more bed available and staff is ready to take action.
There are still a lot of habitations and buildings which are not equipped with air conditioning in France and most people who don't understand why, should know a little bit of the history of the climate in France.
The summers in France in general used to be very hot back in the 1930's to 1950's.  Then for some reasons, summers started cooling off gradually, and by the late 1970's it was evident that summers in France had cooled down considerably, and people would more often complain about having not enough of hot summer than the other way around.  So, therefore, very little need to equip houses and building with air conditioning systems when it became available.  This is why there are still quite of few places where you won't find air conditioning in France and when heat waves hit the country such as this year and back in 2003, the problem can become dramatic.
Nowadays, summers in France tend to be reasonable and also the heat tends to be dry.
How the largest cites are coping
Lyon, second largest city of France and its metropolitan which includes the whole Rhône department is the third emergency service for high alert in the country as the heat wave is hitting hard in the southern part of the country.  Every hospital and clinic of the city is ready for emergency calls.
The metro in Paris is now a roasting place and makes travelers pretty much uncomfortable.  Maybe this is the time to take your bike out and at least enjoy the air flapping on your cheeks as you are taking speed.  Needless to say that the already numerous motor-bikes in Paris are the best way to travel through the city with this 2011 heat wave.
Of course the one of the best place to be with this heat wave hitting France might be the French Riviera "La Cote D'azur" where you can at least take a deep into the Mediterranean see.
This article by Sylviane Nuccio