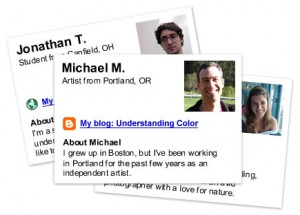 Google is tightening up on the emphasis of writing good content more than ever still.  Google is now encouraging authors to create a Google profile; which profile should be linked to the author's websites.
What Google is trying to accomplish is content authorship, and actually rank authors based on content's quality.  This is very good news for authors who promote good and valuable content that they can be proud of and it will help such writers to rank better on Google's engines as time goes on.
In other words, Google is strongly discouraging anonymous low quality content that you would rather not associate with yourself as an author.  This is just another way that Google is using to promote good, unique content, and rewarding authors of such content.
Recently Google announced that they have been conducting a new search experiment with authors who had linked their content with Google profile.  As a result some authors whom Google would classify as high quality content authors would appear on search results showing their name and picture with a link to their Google Profile on the search results for any specific content related to them.
In the end, the creator of any given content will be judged by Google based on the writer's reputation which is called "Author Rank".  Google is now using new metrics to identify such high quality content and will be using Google profiles and rank those profiles according to the quality of the content related to the author.
How does Google identify the connection between content and author?
To identify the author of any given content, article, blog post, etc… Google will check the connections between – content – author page – Google profile.  You author page is the author page on your domain name.  For example, on your blogs, your author page will most likely be your "about us", or "about me" page.
A Google profile is a version of your "about me" on Google (Google version).  When you link your Google profile by adding Google button on your author's page or any other pages where you have content belonging to you.  This is how you are telling Google that such pages belong to you.
In order to make sure that Google can identify each of your blog post to you, you need to add the rel="author" HTML like this:
<a rel="author" href="https://profiles.google.com/109..">your name</a>
For a full explanation from Google click here to watch the Video!
What does a Google profile will do for you as an author?
A Google profile will link you directly to any content you are willing to link on your Google profile page.  When your content will appear on a search result, your photo will show as well with a link to your Google profile.  Google encourages writers to add a good quality picture on their Google profile page which should be a head shot type picture of you.  No avatar or other representation of you for an author picture. For more details you can check Google guide.
Three good reasons for using Google Profile
Use your Google profile to tie all your content together and to YOU as an author.
Use your Google profile to link your media site pages such as twitter, and others.
Add the Google profile button on your site such as your author page.  This will allow Google to see ALL the content you've added as well as content which Google already knows that belongs to you as an author.
How this will affect search engines and search users
It seems that search crawlers will give more weight to pages indexing ownership using Google profile also called authorship markup (Google's way to connect authors with their content on the web).  This will help reputable authors rank better.
This will also most likely affect search users more and more as time goes on and they become aware of this new feature.  Search users will most likely tend to trust better featured authors linking themselves to their content.
The moral of the story, if you are proud of your content and want to use Google as much as possible to rank better and higher, you should have a Google Profile and add a Google button on all your sites.
This article by Sylviane Nuccio