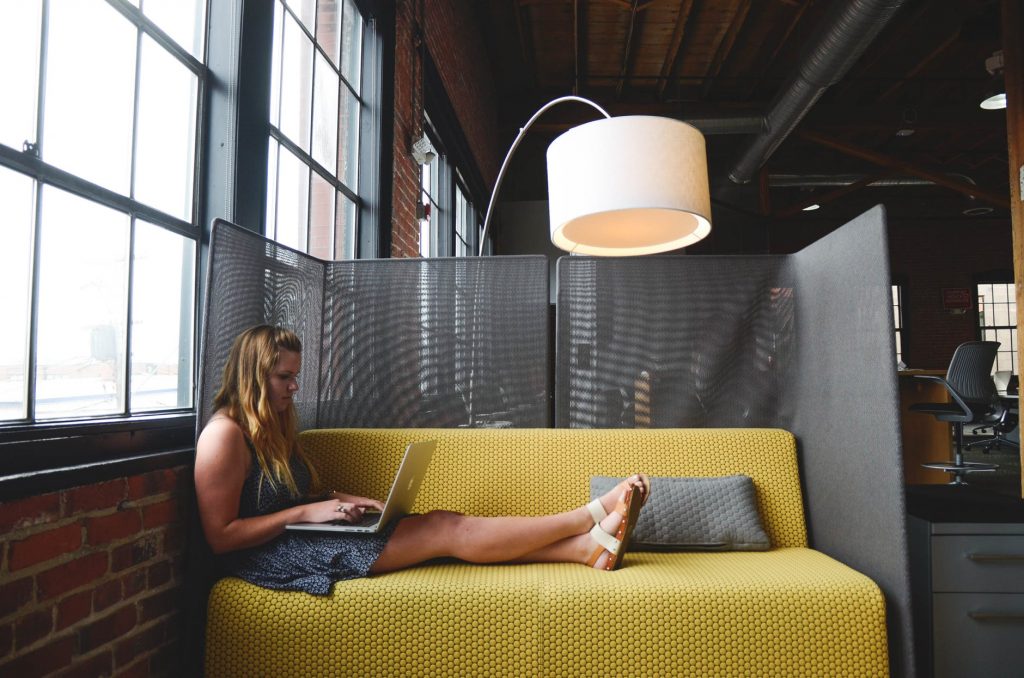 If you're looking for a place to house your company, choosing the best workplace for your needs can be daunting. Trends in workspace are highlighting vital connections between the physical environment in which we work and the quality of work we produce, as well as other factors such as employee well-being, motivation, and the likelihood that you will retain your talent.
Any business worth its salt will consider finding the right office space for your staff an opportunity to maximize the potential of your team. Well-being is at the center of current workspace trends, with companies starting to recognize the impact that well-being has on productivity and team satisfaction. Co-working and flexible office space are emerging as leaders in workspace options. The flexible workspace industry has been quick on the uptake in terms of providing the space, resources, design features and community required to boost well-being and productivity of members.
If you're interested in co-working as an option for your team, it's worth weighing the pros and cons to understand if this is the perfect solution for you. Here are some of the top benefits and challenges of this new kid on the office 'block', to help you make up your mind.
First, it's worth understanding the way that wellness is driving workspace trends, so you can decide if this buzzword should take a central role in your approach to running your business.
Employee Wellness
The well-being of employees is fast becoming one of the most crucial considerations in office layout and design. Businesses are making room for workspace design and management teams to build in HR and wellness programs, to ensure that employees mental and physical health is taken into account. According to research, a workplace that helps its employees to thrive in all areas of life—not just work—is a workplace that promotes the key indicators of a high-functioning team: motivation, productivity, attention to detail, and others.

What's Driving The Well-being Trend?
The hot topic in business these days is recruitment. With the Internet expanding our reach in countless ways, virtual offices are the norm. This means that the available expertise and talent can be utilized all over the globe, rather than being geographically limited. So that amazing code writer living in Austin, Texas won't only be looking at jobs in town. Rather, they will be approached by companies all over the world, eager to have them on board.
In the war for talent, businesses are having to work extra hard to recruit the people they want—competing fiercely with other companies—and retain them once they have them in house.
For this reason, workspace design has become geared towards recruitment and retention. Young, talented, forward-looking people want to work for companies that provide a space for them to thrive, and that considers environmental implications as well.
From outdoor space to break-out areas, and design features for the sake of nothing but aesthetics are becoming the norm in workspaces around the world. Alongside the physical environment, office teams and wellness stakeholders are being recruited to run events and provide amenities geared towards wellness goals and community building (things like onsite yoga classes, healthy snacks, mental-health days, and other activities).
The basic workspace layout and facilities that used to be considered adequate are no longer meeting minimum standards for what employees expect from their work environment. But how do you compete as a business if you're not experienced in how to provide the environment and community atmosphere to attract the right talent for your company? This is where co-working comes in.

What is Co-Working?
Coworking locations are popping up all over the place nowadays. If you're a startup owner or a freelancer, the new order in terms of workspace may already be on your radar. This short-term contract (or contract-free) office solution offers a talent-friendly office environment without your having to lift a finger in terms of design, execution, or workspace management.
But will coworking be ideal for your business, or will this community-driven solution simply offer more distractions for your busy team? These top benefits of coworking will help you decide whether to give coworking a try, or look to other workspace formats for your needs.
The Benefits of Co-working Memberships
From flexibility to community events, coworking has loads of tangible benefits for your employees and your bottom line.
Affordability
First things first: how will coworking impact your office space budget? If the popularity of coworking with freelancers and early-stage startups is anything to go by, one of the main appeals of coworking is the low membership fee. Compared to the existing workspace model, coworking locations offer more varied and flexible ways to utilize space at a much lower cost. All-inclusive feels usually cover all essential workspace infrastructure and services like managed IT, reception service, maintenance, and cleaning. Administrative and call-answering services are available as extra add-ons, usually at a fairly manageable price-point. Some coworking locations throw in talent-friendly workspace essentials such as café-grade coffee, and healthy—and some not so healthy—snacks.
Flexible Workspace Access
24-hr access is the norm at most coworking spaces, and flexible options in terms of membership types allow your employees to come and go as work demands. In the days of traditional offices—when workspace meant endless square footage of leased floor space with grey carpets—startups and early-stage businesses didn't have the opportunity to move out of their home offices until it became clear that their businesses were taking off, and they could afford longer-term commitments. While traditional office leases tend to run at a minimum of ten years (in order to be affordable) coworking memberships allow pioneering startups to house their teams before they become fully established.
No Wasted Space
Why lease an entire office if five desks is all your team requires? Coworking memberships give you the freedom to shell out for only as much space as you need at any given time. Start small if you're just getting set up, perhaps with a couple of floating desks, and graduate to a dedicated desk island, or maybe one day a private office. If you hire a new team member in another town, or even another country, you can simply find the nearest coworking space to them and pay for their membership there, knowing they'll have high-speed Internet and the full workspace service provided. A coworking membership gives your business the flexibility it needs scale and grow without running the risk of leasing excessive floor space for your requirements.
Co-working Drives Collaboration
One of the key drivers behind the coworking concept is the notion that housing a mixed bag of talented, driven individuals in a single space will spark unprecedented creativity and cross-team collaboration. Rather than having your teamwork in a vacuum, it's worth considering putting your employees into contact with other talented people in your industry and beyond. This meeting of minds across disciplines means your team can throw ideas around with other likeminded individuals with different expertise, skills, and perspectives. Need a copywriter? The freelancer sat opposite you could be the answer to your prayers. Grab a cup of coffee with them at break time and put your ideas to them, see what they have to say. The informality allowed by the coworking model encourages collaboration in a natural way. This inspiring collaborative environment has provided the means by which countless small businesses have managed to disrupt the market.
Network to Your Heart's Content
As they say in the world of business: it's not "what" you know, but "who" you know. That old piece of wisdom is as relevant as ever, especially in the current climate, where talent is worth its weight in gold. One of the main downsides of starting out in a home office is the lack of opportunities to meet potentially fruitful business connections. Top coworking outlets such as WeWork have risen to the challenge by laying on an interesting and stimulating calendar of networking events that are driven by the interests and passions of their members. Whether it's an inspiring key-note speaker on a relevant topic or organizing nights out, coworking spaces present employees with endless opportunities to rub shoulders with other members and forge lasting professional connections.
The Cons of Co-working Space
While coworking has reshaped the world of workspace, this innovative solution is not ideal for every business. Here are a couple of reasons why.
Data Considerations
If you're the life or your business depends on maintaining strict privacy in terms of customer data and internal business operations, a coworking space may not be the right solution for you.
Sharing space has the obvious downside that other members who are not employed by your organisation and do not have the required security clearance to view the data you handle on a day to day basis may be able to view your screen as they walk behind your chair on the way to the coffee machine, or stop by at your desk for a friendly chat. Coworking won't work for your business if leaving your laptop to grab a snack could make you hurry the person ahead of you in line at the vending machine because of the classified paperwork you've left untended on your desk.
Phone Calls Get Tricky
Likewise, if your work requires you to spend hours on the phone to various stakeholders and clients, it's worth bearing in mind that your conversations could be overheard, so you won't be able to chat about sensitive issues. Most coworking spaces provide meeting rooms and phone booths for use by members when they have a private call to make, but this solution is intended for people who have to place one or two private calls per day.
Co-working can be Distracting
While many coworking spaces provide designated "quiet zones", most coworking banks are hubs of conversation and chat. This can be either motivating—for the right employee—but others might find this challenging if they need silence to concentrate and do their best work.
Whether you're a new startup or a household brand, selecting the best workspace for your business can be tricky when the game is changing fast. These tips will help you work out if coworking is the solution for you.