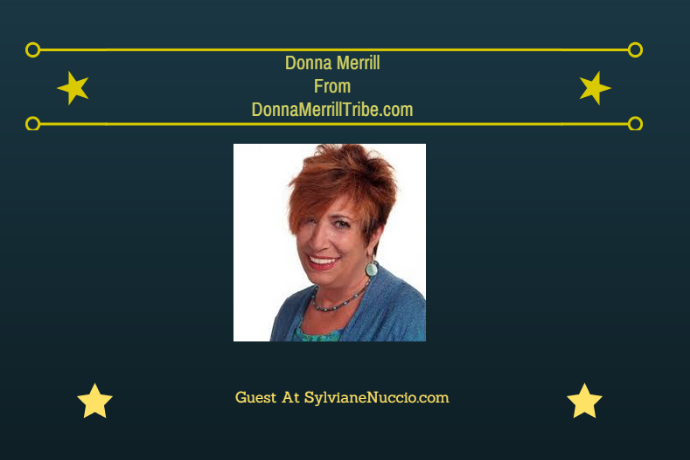 I normally have a guest on my blog either the first Monday or First Wednesday of the month, but since I've arrived in France just a week and half ago and had to do some administration things to be sure to take full advantage of my French citizenship, I haven't had the time to write much.
So today, I'm having a wonderful friend as a guest that many of your love already, and next Monday I will have another surprise for you.
In the meantime, I'll be posting about personal development and about my experience in France so far, for those who enjoy this type of post as well, here at my blog.
So, here is my quote for my wonderful guest today:
Take a seasoned entrepreneur who been there and done that, who now teaches people how to blog and earn money with their online business like no one else, and you get Donna Merrill
Sure, you can bend, but don't break.
Sure, you can get disappointed, but don't despair.
Sure, you can fail, but don't let that deter your success.
I never want to hear the word "no."
If I put up a sales page for a product I've created, I KNOW it will improve people's lives and businesses.
If I didn't know that, totally and absolutely within my core soul… I'd never release it.
So, if the very first visitor to my sales page leaves without buying, it hurts.
That was a big "no" from my perspective.
Does that mean I should tear down the sales page, dismantle the product and start a new one?
I mean, really, if the very first person leaves without buying, is that going to send tremors through my business model?
Hardly.
But things are never that black and white, are they?
The Good
If 1,000 people visit my sales page, and only that first person walked away, but each of the other 999 actually buy my product… suddenly, the stinger comes out.
ONE person, my very first visitor, didn't buy my offer.
So what!
I'm obviously doing something right.
The Bad
But what if that one person DID buy my product, and I'm all excited because she's the first person to land on my new, sparkly, spiffy sales page?
Is it happy dance time?
Wait a minute.
A week goes by and, it turns out, she was the ONLY person out of 1,000 to buy.  The other 999 all clicked away without converting into a sales.
That's definitely not cool.
The Real
But here's the thing.
I could have been all depressed and ready to change course, or even shut down the doors when that first visitor didn't convert into a buyer.
I mean, that is rejection, loud and clear.
And it's a rejection of something I worked long and hard to put together to improve the life of that person who just ditched out on me.
I don't like that.
It feels bad, and it just shouldn't be.
My reaction to that rejection, though, is far worse than the rejection itself.
This person didn't rip my business apart.
She didn't contact me and tell me to take down that sales page immediately because she's not interested in the offer.
She simply clicked away.
I don't know why.
Maybe the baby spilled her cup of milk.
Maybe she just remembered she was late to the dentist.
Maybe she just wasn't interested in what I was selling (it happens… lol).
She clicked off my sales page without taking action.
That's all.
She didn't rip my business apart.
But in response to her rejection, I'm ready to rip it apart myself.
You see, rejection is not dangerous because it destroy us, it's dangerous because we could make it our excuse for destroying ourselves.
If we do… if we shut down, alter course, give up… it's not because of the rejection of one person.
It's because we were eagerly seeking justification to quit, and now we've got it.
The Best
If you are really committed to constructing a solid and successful online business, via blogging, affiliate marketing or anything else… you need to welcome rejection.
Rejection is how you learn what people don't want.
Once you learn that, you're a step closer to giving them what they do want.
Every time you hear the word "no"… you need to ask "why not?"
That's how you hone in on what will work best for you.
Rejection gives you something that money can't buy.
It gives you an honest assessment from a real prospect who is focused purely on your offer and nothing else.
That's valuable stuff!
It's not always flattering, but it's really valuable if you're serious about your business, and not just looking for a pat on the back.
Naturally, you won't be likely to have 999 sales from 1,000 visitors.
You won't have only one, either.
It will be somewhere in between.
You have to make the decision whether or not the numbers dictate that you move forward with a particular strategy, or whether you tweak it or even trash it.
Remember, you'll always have to bend this way or that.
The key is to bend, but don't break.
Whatever your assessment of a set of statistics, your mission to move forward is still your mission to move forward.
Rejection simply keeps you better informed as you do.
How do you feel when you hear the word "no" in your business?
How do you bend?
Does it ever make you feel like breaking?
I'd love to hear your comments below.