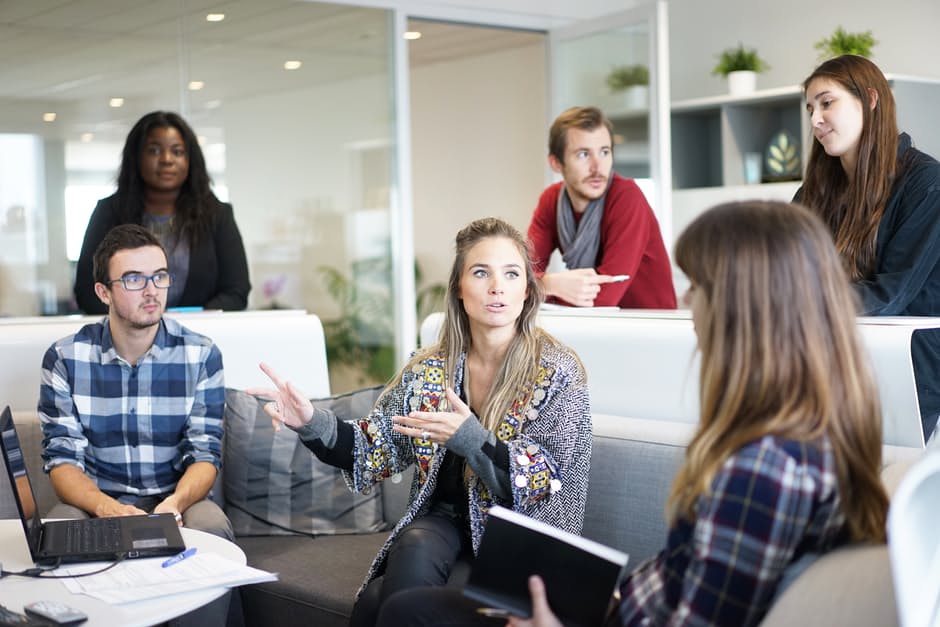 Most managers will encounter a time when employees seem disengaged and not as productive as they once were.  
Perhaps your team is struggling with a particularly big project, or there are just a few individuals who seem demotivated.  
Alongside natural methods to increase engagement among your employees (team-building, open communication, regular meetings), there are now software programs, apps and technology-based solutions that could get your team producing better work than ever before. 
Have a read through our top recommendations for the best employee engagement software, and find the best solutions for improving your company culture. 
 1- Jostle 
This people engagement intranet platform is a one-stop-shop for keeping connected with all your employees – kind of like a business social network.  
There's a 'teams' section, which breaks down all your divisions, shows everyone's details, and makes it easy for anyone within the business to find the right person to contact.  
There's a kind of 'news feed' where announcements can be made, questions can be asked, and shout-outs can be given to recognize great work.  
Documents can be shared with individuals, teams or the entire company. You can create events, and then see who has RSVP'd. Direct messages can be sent between people without having to put private information on the news feed. 
Jostle says its users enjoy 5 times higher participation rate when compared to industry norms. If you're looking for a Facebook-esque employee database to help your team stay connected, look no further! 
2- MeetApp
Do you hold regular meetings, workshops, and conferences? Cut out the paperwork and leave all your information to the MeetApp app.  
MeetApp shares your meeting schedule, discussions and speakers with everyone before the event. It allows participants to RSVP, and real-time changes can be made by the event-holder so that everyone is kept in the loop.
Need to make a last-minute room change? Your participants will be sent a notification, ensuring everyone is in the right place at the right time. 
You can hold anonymous polls via the app to gauge real opinions, and reduce the embarrassment of having to raise hands! Download MeetApp for your next event and increase employee engagement by doing things interactively. 
3- Recognize
This platform was built for positivity in the workplace – a big part of which is recognizing great work and exceptional employees. It integrates into Office 365 and other productivity software. The Recognize team believe that great things come from positive feedback and that this can reduce staff turnover by building relationships on all levels of the workplace hierarchy. 
It can also help you increase revenue through the ability to set up sales initiatives and competitions, with the option of having a leaderboard or 'hall of fame' to display those who've worked hard.  
4- Culture Amp
This employee feedback software makes it easy for you to decipher how best to engage your workforce, by listening to what THEY want.
Send out a survey about what your employees would like to see improved, what they find difficult, and what would help them work. 
The simple interface makes completing the survey quick and easy. Then, Culture Amp does the analytical work for you, converting the data into percentages to show where your company needs to improve.  
To gain insight into the needs of your employees, get Culture Amp today and discover how you can improve your office culture.  
5- Weekly10
The simple premise of Weekly10 is that employees take 10 minutes each week to answer a range of questions about projects, problems and achievements.
Easy! This means employers know where the team is 'at' in their work and job satisfaction.  
Managers take 5 minutes to read, respond and take action according to their questions' responses. Feedback and goals can be set, keeping everyone on the right path. 
This straightforward method could increase your employee engagement by ensuring that everyone knows their voices are heard and problems are solved.  
There are many more engagement platforms out there, but the ones featured here were chosen for their simplicity to use and proven great results. Test some out in your business to make your team feel valued and heard.  
Contributor post