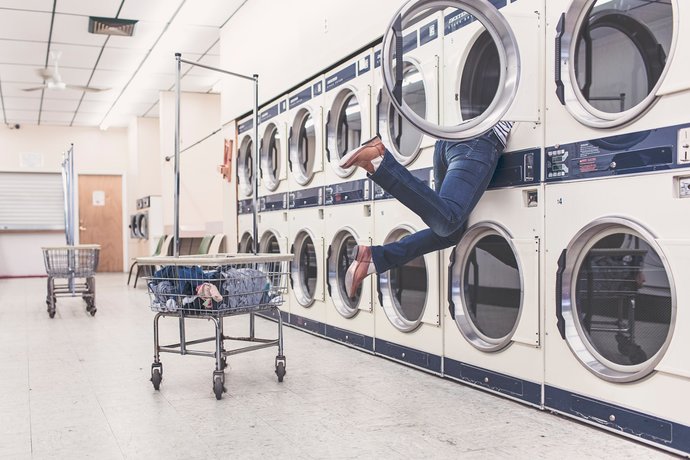 With the intense competition in the laundry industry, it's important to think of a way for your business to be better than all others. This way, you will be the preferred choice and you will be more profitable than your competitors.
Among others, one of the best things that you can do is to incorporate smart technologies, including those that will be mentioned in the rest of this article. Using these technologies can be initially costly, but in the long-term, it will be worth it.
Card Payment Systems
We all know about coin-operated laundromats. However, if you want to make it better for your customers, you can also implement a card payment.
Take a look at the vendor laundry equipment from Continental Girbau and see how they accept cards as a mode of payment in their machines. This will be a great way to modernize your self-service laundry.
Customers won't have to bother bringing coins the next time they need to wash and dry their clothes! Also, it enhances your security and saves time. you do not need to spend some time visiting banking halls to deposit daily earnings.
Smart Accounting System
In the case of many coins and card laundry equipment, they also have a feature that automates the accounting process. This way, it will be easier to keep track of the finances in your business, such as how much a machine earned for a specific period.
Hence, you can determine which ones are burdening your venture and decide to do replace or dish them out. This way, you enhance efficiency in your laundry business.
Also,compared to traditional payment methods, this can also help in preventing theft. The system enables you to account every coin invested. As such, it eliminates any loopholes that unfaithful staffs can use to earn an extra coin unethically.
Apart from this, you have an opportunity to access timely information on your business health. The information enables you to make an informed decision on the next step.
Ironing Equipment
Nowadays, ironing does not need to be done manually. Continental Girbau provides laundry automation technologies, including a smart ironing system. This will be a great investment for laundromats that serve primarily commercial and industrial clients, including hotels and hospitals.
Compact machines will iron, dry, and fold the clothes in no time. This reduces the need for manual human labor, which can also translate into significant savings in the long run.
Mobile Application
A mobile app is necessary for your business. It is one of the smart technologies that will make a laundry business more competitive.
The app can provide an easy way to access the services of the laundromat. For instance, customers can schedule a pick-up of the clothes that they want to be washed. It can also be used to settle their payments for the laundry services. More so, the app can be used as a powerful marketing tool and to advertise the latest promotions.
For example, some apps have features for offering discounts to customers referring their peers. This way, you can use them to boost business awareness and attract more customers through referrals.
Chatbots
Offering effective and reliable customer services is the key to topping the rest in your industry. Particularly, the competitiveness in the laundry sector calls for consistent customer engagement.
Your customers need to find you and get immediate answers on their queries. A chatbot can be an effective solution to customer care challenges. This smart technology allows you to design a programmed bot that engages your customers. you can connect this bot with your Messenger, mobile app, or your website. This way, clients get immediate answers solving consistent customer complaint in your laundry business.
Remote Internet Access
Managing the laundromat is possible without the need to be physically present in the location. Owners will have complete control of their business while they are away. For instance, through the use of their mobile phones, they can control the lighting, as well as the heating and cooling systems. You can even check the status of the equipment through remote internet access.
If you want to become more competitive and profitable, it is important to take advantage of the smart laundry technologies available, including those mentioned above. These will help you to deliver superior services while also cutting costs of operations in the long run.