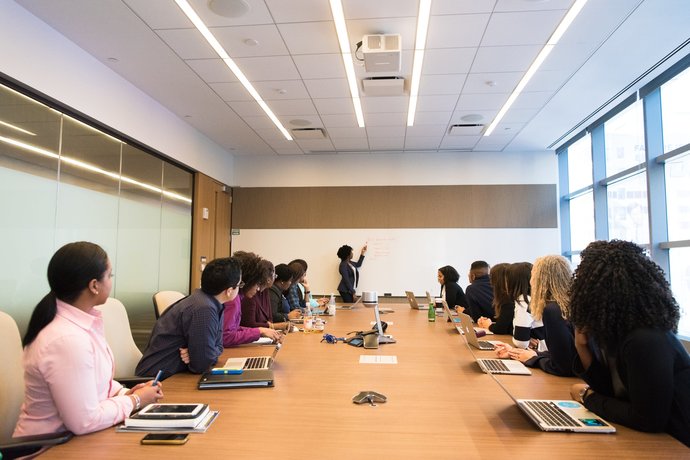 Companies that offer internal employee training and development programs tend to
be more successful.
Training programs increase employee skills which in turn can directly benefit the business.
The following companies are known for having the best employee training programs.
Blue Cross Blue Shield
Based in Detroit, Michigan, Blue Cross Blue Shield is one of the largest insurance providers in the world.
Health insurance policies are constantly changing, and these changes can be complicated and confusing to both employees and beneficiaries.
Without proper employee training, representatives are unable to educate customers on these important health care changes.
BCBS is routinely invested in keeping employees up to date on insurance changes, including the most recent health care reforms.
Training often is led by those most involved in the company. For example, the company's CEO recently conducted a three-hour training session.
Blue Cross also values individual employee education by offering tuition reimbursement programs.
Jiffy Lube International, Inc.
You have probably not given much thought to the technician who changes your oil.
However, you might be surprised to learn that Jiffy Lube International, Inc. places great priority on employee training and certification.
Store associates cannot perform any service that they are not already certified in.
Jiffy Lube also values customer service training, ensuring that customers receive the best service possible for every visit.
The Jiffy training program today consists of 10 different categories and, over the last few years, there has been a 900 percent increase in Jiffy Lube teams with 100 percent training.
Amway
Amway has secured a place in the career industry by giving individual employees the opportunity to achieve entrepreneurship and corporate freedom.
The company values business growth, leadership and management skills, and an entrepreneurial spirit.
Amway Education is the educational opportunity for Amway professionals. It includes over 80 courses, virtual classrooms, and all the tools needed to grow an independent business.
Individuals who want to know how to succeed with Amway can take advantage of the educational videos, sponsored mentors, and confidence building exercises to achieve their business goals.
AT&T
AT&T has been a leading provider of cell phone services for the last decade. The company currently employs over 280,000 employees from all over the world.
The company recognizes the importance of employee training and development to grow its brand.
AT&T has a dedicated employee educational program called AT&T University. This training program is led by executives of the business, and it focuses on employee leadership and management development skills.
The company is also a leader in the computer science industry and designed the first online Master of Science in Computer Science degree program.
Apple
Apple has led the tech industry for many years. Its dedication to education and leader development has contributed to this success.
Steve Jobs created Apple University to educate employees about the history of the company and to keep them up to date
with the latest technology changes.
The exact curriculum of Apple University is often speculated about, as employees tend to keep it confidential. We do know that there is year-round training and that courses are catered to individual skill sets and Apple career goals.
Courses are not mandatory, but many employees of Apple opt in as they see the value in enrolling in these highly
exclusive courses.
Marriott International Inc.
Marriott International Inc. owns over 4,400 hotels across 85 different countries and employs over 200,000 employees from all over the world.
The company is a well-known name in the hospitality industry, and it has created a reputation for exceptional customer service and accommodating services.
An in-depth and well-planned training program is required to coordinate the training of such a large number of employees.
Marriott International's training program is designed around the individual.
The company offers both online and in-person training that covers the most important hospitality values including career development, leadership and management training, and work-life balance courses.
Marriott International values the independence of each individual employee and aims to foster growth in every single one.
Businesses that focus on the development and education of their employees tend to see higher employee morale, improved customer ratings, and an overall growth of success in their industry.
Contributor Post at SylvianeNuccio.com