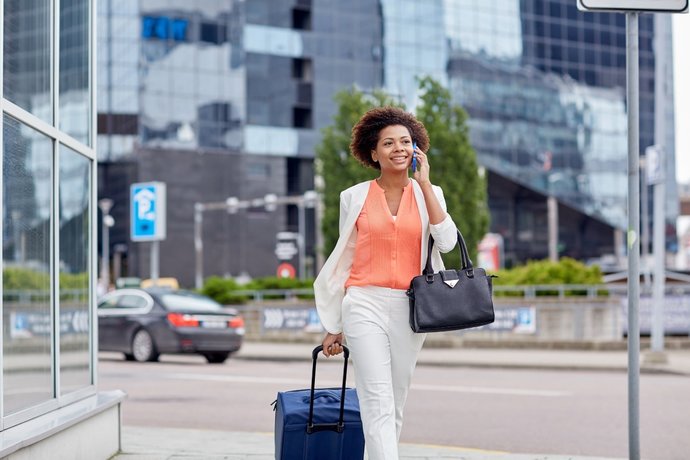 When traveling for work, you are completely uprooted from your normal, comfortable routine at the office.
You're likely on a tight schedule, in an unfamiliar place, and under serious pressure from your main office, which could be the perfect recipe for a disastrous business trip.
But don't fret! If you take advantage of a handful of our favorite tips to help iron out some common business trip snafus, you'll return rejuvenated and ready for more.
Stay On the Grid
We know you'd never make the rookie mistake of forgetting your device chargers. The thing is when you're on the road wall outlets can become mysteriously scarce. And it's always when you need one the most that you won't be able to find it.
In order to avoid the panic of seeing your phone at 5%, invest in an external power bank. A good one will feature multiple USB ports and have the capacity to store enough battery juice to recharge your devices a number of times without ever needing to be plugged into a wall.
Keep the Productivity Flowing
Don't be surprised if you find yourself on a total workflow high when you travel for your business trip. Being outside of our everyday routine and environment is bound to inspire new motivation and focused energy.
Unfamiliar surroundings sharpen our natural instincts, and we are more focused and proactive in new places than when we stick to the same routine day after day. The trick is to tap into this energy and run with it while you can.
To take full advantage of the productive rush, you'll need your devices to keep up with you as well. A newly upgraded Chromebook will become your travel BFF. It's versatile and adaptable, yet totally sleek and professional.
Investing in good equipment will help keep your productivity flowing and make work trips all the more enjoyable. Need to block out the noise of a busy conference hall? Try getting a pair of Bose noise-cancelling headphones so nothing can interrupt your newfound energy.
Don't Pack Your Favorites Items
A huge part of keeping your cool during a business trip has to do with the stuff you lug along with you.
Maybe you catch yourself panicking in your meeting about whether you remembered to get your glasses off the hotel nightstand on your way out. Maybe you lose a favorite piece of jewelry in airport security and don't notice until days later. Maybe you scuff your best close-the-deal shoes when you're running to catch the subway.
The point is, your time on your business trip is far too valuable to be spent stressing about your own belongings.
Make an effort to wear your second-favorite watch instead, bring last season's reading glasses, and leave your great aunt's family heirloom earrings at home.
If you absolutely must bring some things you really care about, at least be prepared to deal with unexpected accidents. Pick up a brightly colored glasses case that you won't forget, pack a compact shoe-shining kit, and never forget a bleach pen.
Pro tip: the moment you're worried you might forget something (like when you check out of a hotel), set an alarm in your phone and rename it to reflect your concern. Something like "DON'T FORGET GRANDPA'S CUFFLINKS ON THE DRESSER" works every time.
Always Look Sharp On the Go
A classic sign of a frazzled business trip newbie is wrinkled clothes. If your clothes show a lack of care, the same can be assumed about your attitude toward the trip. Luckily, there are many different solutions to improve a disheveled appearance.
Sometimes just a high-quality garment bag will do wonders for your clothing care, especially when it's paired with a small bottle of wrinkle releaser spray. Plus, most hotels will provide an iron and ironing board for you, as long as you remember to set aside the time to use it.
Still, if you want to take extra precautions, consider investing in a travel steamer—most major department stores carry affordable ones.
When you're getting ready for your next business trip, remember these tips to make traveling easier and more enjoyable. Your next trip will surely be productive, smooth, and effortless.
Contributor Post at SylvianeNuccio.com