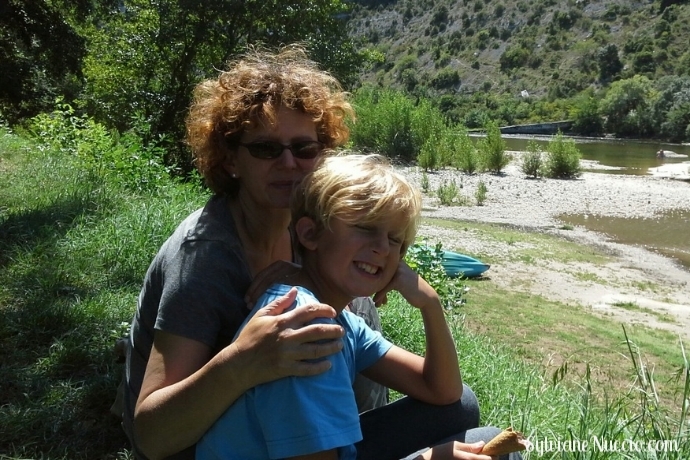 You are a single mom with young children, and while you are doing OK financially, it's not always easy to raise kids on your own with your income alone.
While some single moms get child support, maybe in your particular case you don't, and at times you feel the pangs of fear, having your little family counting on you, and you only.w
I have to say that I've known about this feeling very early on in life. It wasn't my own, but that of my mother. While she was doing relatively fine financially, she never received a penny that she did earn herself.
However, almost every time I speak with people who are around my age and had both their parents raising the family, I realized that they struggled more financially than my single mother ever did.
We lived in beautiful stone house that was paid for. We had Christmas out of fairy tales, and we went on vacation to places like the French Riviera, Spain, Italy and England throughout my childhood years.
Thinking of it, my mother has had 5 bran new cars in a matter of 10 years as well, while all our dinner plate were always plenty full.
Why am I telling you that?
Because while my mother had her share of common lack mentality programming like most people have, she did believe in money flaw and she was very giving.
So, without knowing it, she applied two of the fundamental principles of money, which by universal laws will bring more money into your life.
In this post I want to help you, the single mom who's working hard to raise her kids to make sure that they never lack anything. If my mother had had this information, I can only wonder what she would have done, so it's my hope that you do pay attention and apply what you learn.
Why People Struggle so much Financially?
With the amount of people that is struggling financially nowadays, if you are doing OK, you're already on a good track and doing better than millions.
One of the very reasons why so many people on the planet struggle financially is that it's a topic that is spread all over the place such as TV, radio, newspapers, and everywhere you can think of.
The way our universe works, as per one of its fundamental laws, which is the law of attraction, the more you spread an idea, the more results based on that idea you will get.
We are brainwashed every single day with "lack reality" to the point that we truly consciously and subconsciously believe it until we make this our own reality.
However, as Albert Einstein said; "reality is merely an illusion, albeit a very present one."
If the whole system around us is believing in lack more than it's believing in abundance, it's bound to affect us, and that "reality" is going to become our own.
That "reality" of lack is going to be yours always, unless you start learning how to see things differently.
If you are new to the law of attraction, this may seem weird to you at first, and maybe even hard to believe, but whether you believe it or not, doesn't change the fact that it's true.
Sport athletes understand that fact very well, that's why before they run a race or play a game they condition themselves into believing that they will win.
They know that they have zero change of winning if they were to create the belief that they will lose.
And that fact has nothing to do with their skills and training.
In your case, the first thing you need to do is to cut down on listening to negative/lack mentality news and conversations from others as well as yourself, and like a sport athlete, learn to see yourself as a winner.
You Want to Stop Worrying about Money
The thing about worrying is that you're obviously focusing on what you're worrying about. And as per the law of attraction what you're focusing on expands.
If you are worried about gaining weight, you'll gain weight more easily, because that's where your focus is.
If you are worried of being alone, you seriously increase the chances of being alone, because that's where your focus is.
If you are worrying about lacking money, you'll lack money more easily, because that's where your focus is.
You need to focus more on abundance and less on lack.
You know that saying, I'll believe it when I see it?
Well, that's not how the universe works.
Because you're always seeing what you believe, and if you want to see (experience) something different you have to believe it first in order to see it.
If all the broke and unhappy people of the world could even start to understand this concept, their life condition could only start to improve.
Unfortunately, there's only a very small group of people who have come to understand this truth.
But those who do know about this fundamental rule, and have applied it into their life, know how true that is.
I have spent the better part of my life living like most people out there, waiting for the day things would start changing for me. But as Albert Einstein said; "doing the same thing over and over again and expecting different results is insanity."
Indeed, nothing changed for me before I did two things:
Start looking for answers to my questions about life.
Start applying the laws of the universe into my life.
Change didn't happen overnight, because I did it all on my own, and I was still reaping experiences from negative past momentum.
But eventually, I was able to create a new life. A life that millions only can dream of.
You are Creating your Own Life Experiences
Life can be easier than it seems, but I have to admit that it does take practice.
Just like it's easier to run, the more you practice running, or that it becomes easier to play the piano the more you practice playing the piano. Practicing positive thinking and high level vibrations becomes easier as you practice over and over.
If I were to call creating the life that you want a recipe, I would say that it works this way…
Focus on what you want as much as possible.
Write it down, like you would write a movie script (with as much details as possible).
Visualize it as you would visualize scenes of a movie.
Feel your images with as much feelings as possible.
Check your mood all throughout the day to make sure that your emotions don't betray you.
If you are doing OK financially, then you are already doing better than millions of people in this world, but because you are still worrying too much about what ifs, which are usually negative scenarios that you are playing in your head, you are sabotaging your success.
If you would like to learn about attracting more money into your life, start checking my free e-course today.